The world finals of Bushiroad Championship Series 2022 concluded with a bang earlier this year, marking an end to the first year of in-person tournaments we've had in three years. Before Weiß Schwarz Meisters around the globe fully shift their focus to the upcoming Bushiroad Spring Fest season, let's celebrate the past year of tournaments through a reflection of decks and metagame shifts.
March 11
Despite being a good three weeks before the first event of Bushiroad Spring Fest 2022 (BSF2022), March 11 was arguably the most influential day in defining its metagame.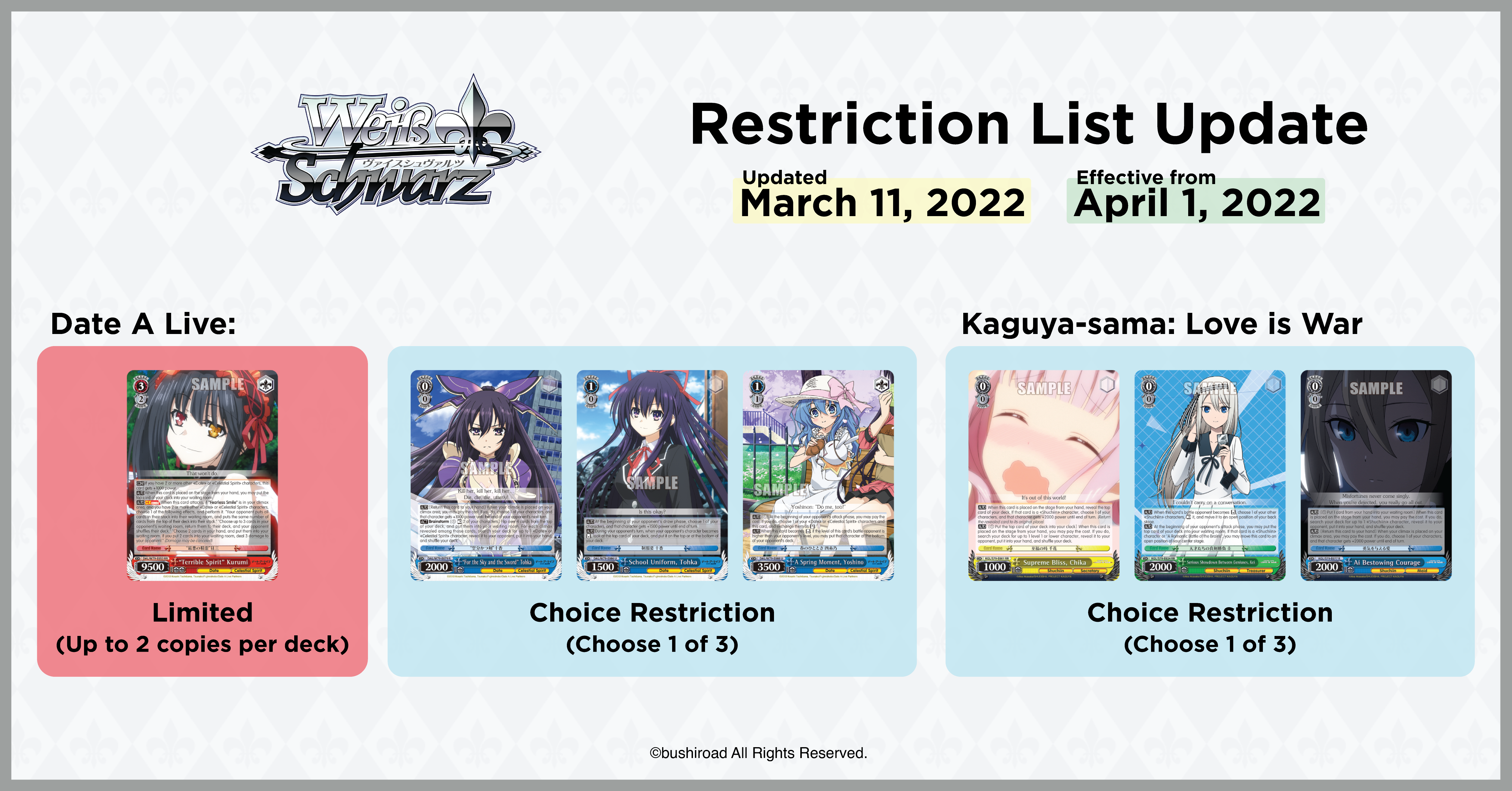 Restrictions were placed upon the titles generally agreed to be the top two in the preceding Bushiroad Rumble Online 2021 (BRO2021) metagame: Date A Live and Kaguya-sama: Love is War. Date A Live in particular had been dominating remote tournaments for a year and was the deck to beat, forcing the metagame to form around it.
The restriction list seemed to suggest that BSF2022 would be a less centralized, lower powered metagame. However…
Mushoku Tensei: jobless reincarnation was released on the very same day as the restriction announcement.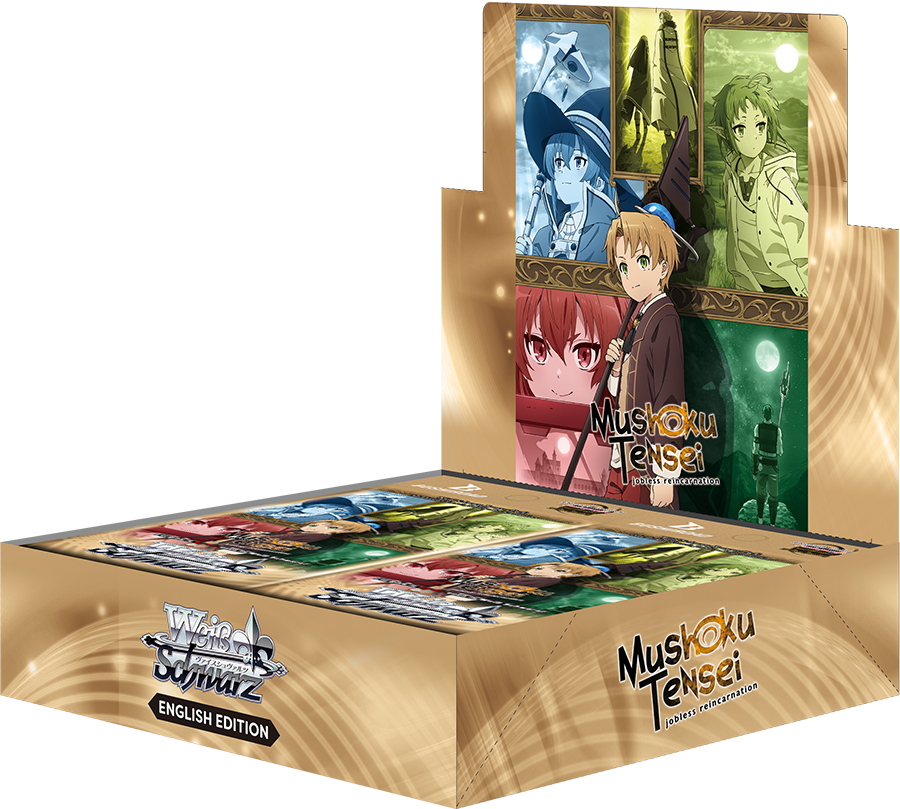 Mushoku Tensei: jobless reincarnation's 8 Standby build would move on to become the most successful deck throughout the BSF2022 season; most decks were unable to consistently and comfortably contest the 8,500 power line posed by "Violent Tsundere Young Lady" Eris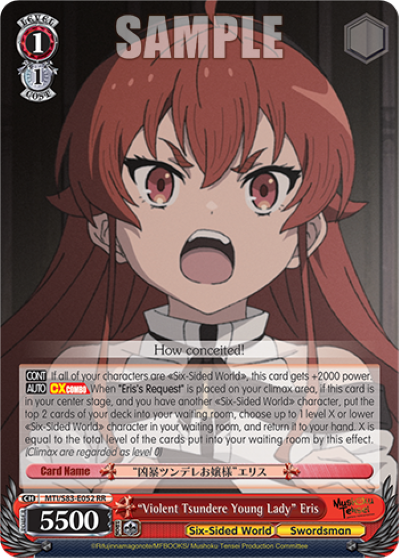 and "Strong Body" Ghislaine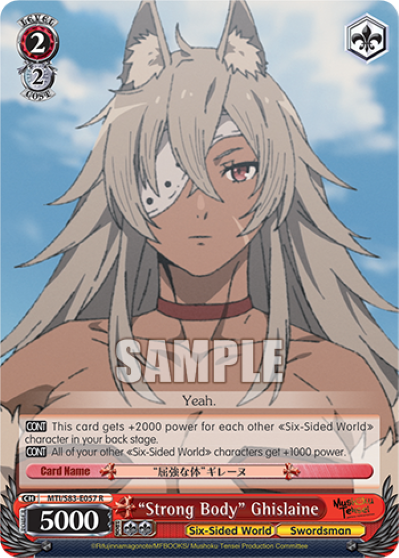 , allowing the deck to snowball and gain a large number of stock.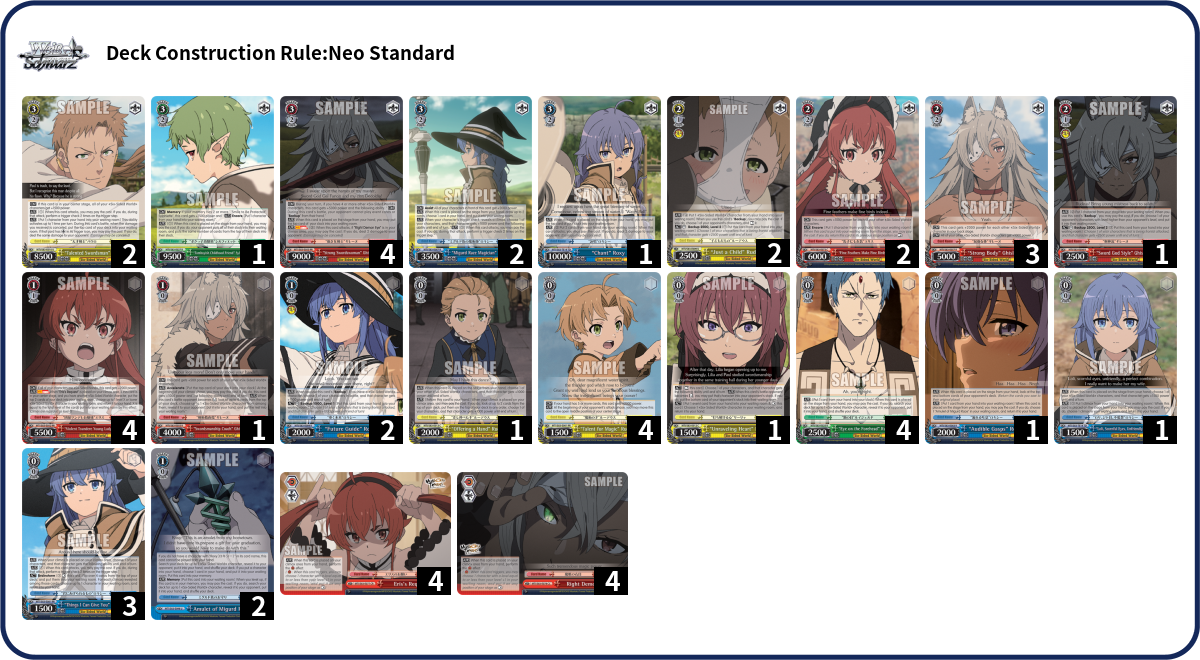 This stock could then be used to fuel the deck's versatile endgame, in which players could choose to use "Just a Child" Rudeus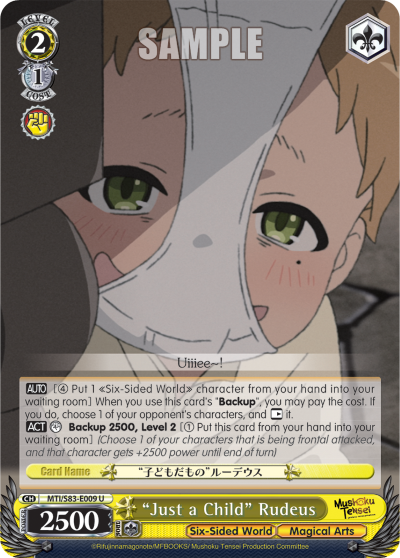 to defend and survive an extra turn, push to win with "Strong Swordswoman" Ghislaine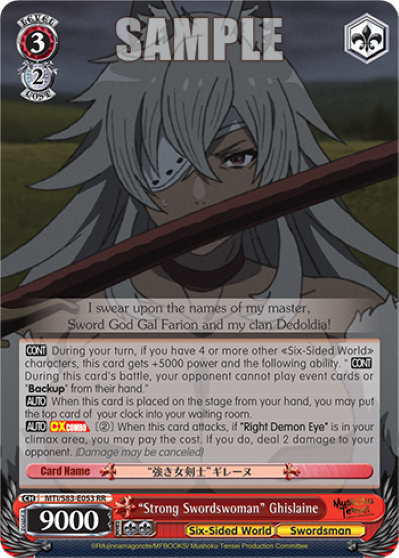 , or even both!
BSF2022
Had BSF2022 been a non-teams format there may have been very little diversity in titles, with many 8 Standby Mushoku Tensei: jobless reincarnation mirror matches being played each round. However, as the event series was a three-player teams format, this was not the case.
BSF2022 fired off in California on April 2, and Mushoku Tensei: jobless reincarnation unsurprisingly took off as the most represented title at the top tables. While there was some variety in the other titles being played with no clear second place, titles with some form of strength or answer in their 8 Standby Mushoku Tensei: jobless reincarnation matchups seemed to be more successful: BanG Dream!, whose new Rausch und/and Craziness Ⅱ" CHU²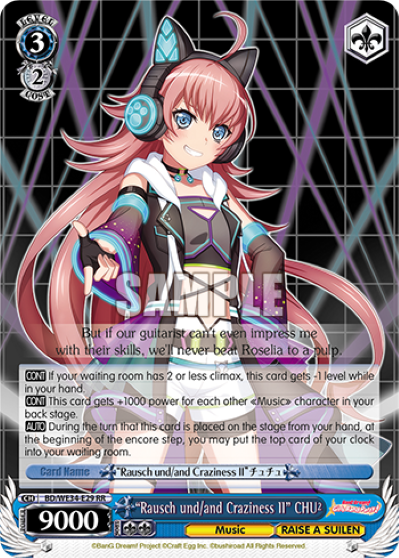 and Astonishing Speed, PAREO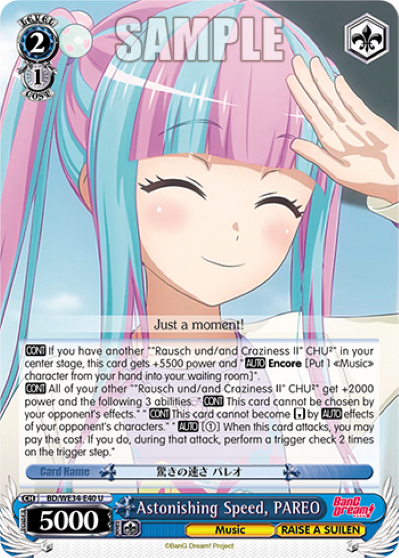 pair could keep up with the power of 8 Standby Mushoku Tensei: jobless reincarnation's level 2 game; That Time I Got Reincarnated as a Slime and RWBY, whose finishers, Inherited Form, Rimuru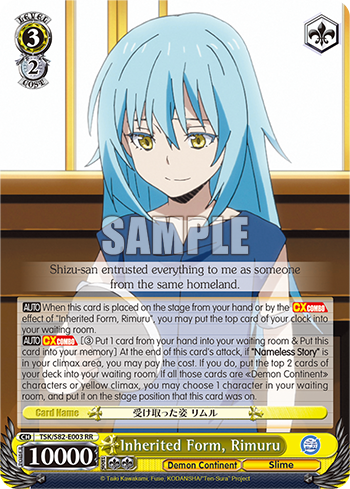 and Ruby Rose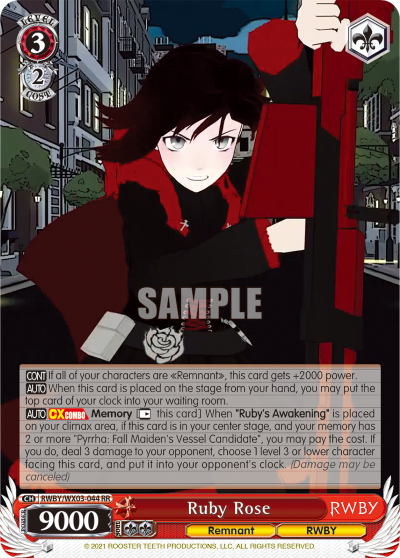 were minimally affected by "Just a Child" Rudeus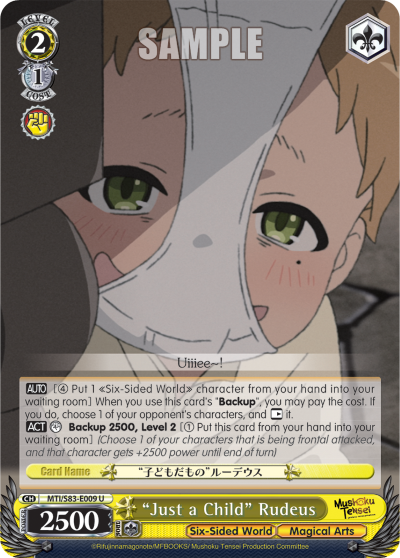 "; and Love Live! Sunshine!!, whose level 1 climax combo could easily deal with "Violent Tsundere Young Lady" Eris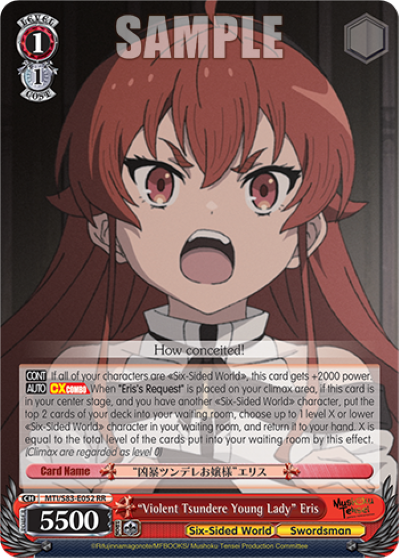 .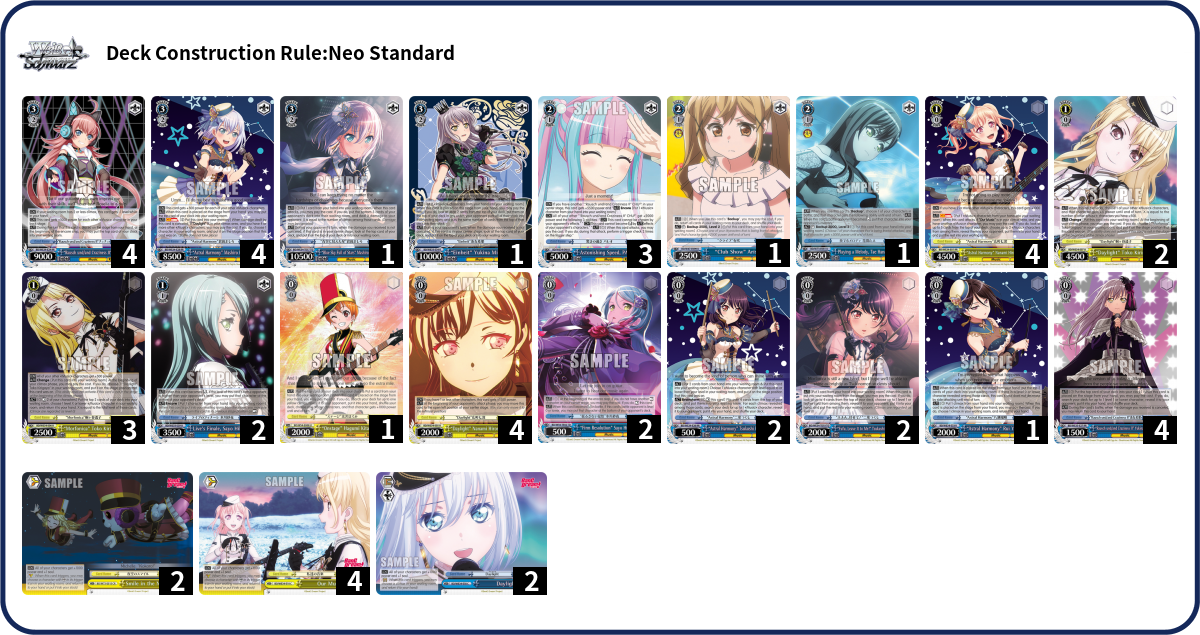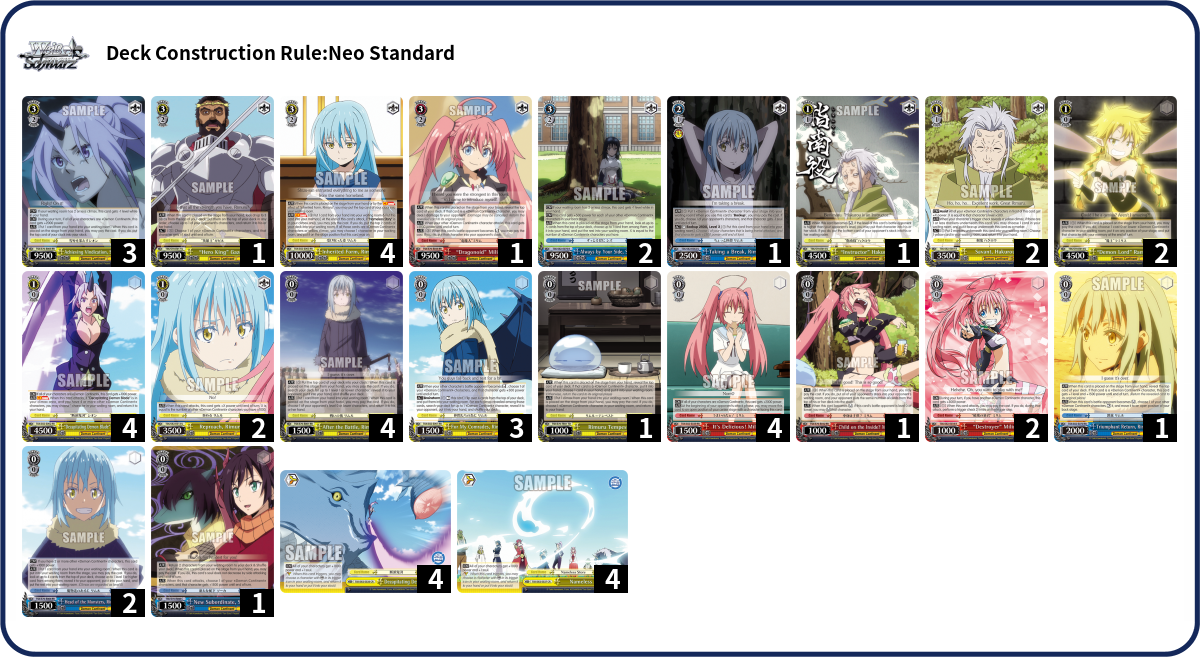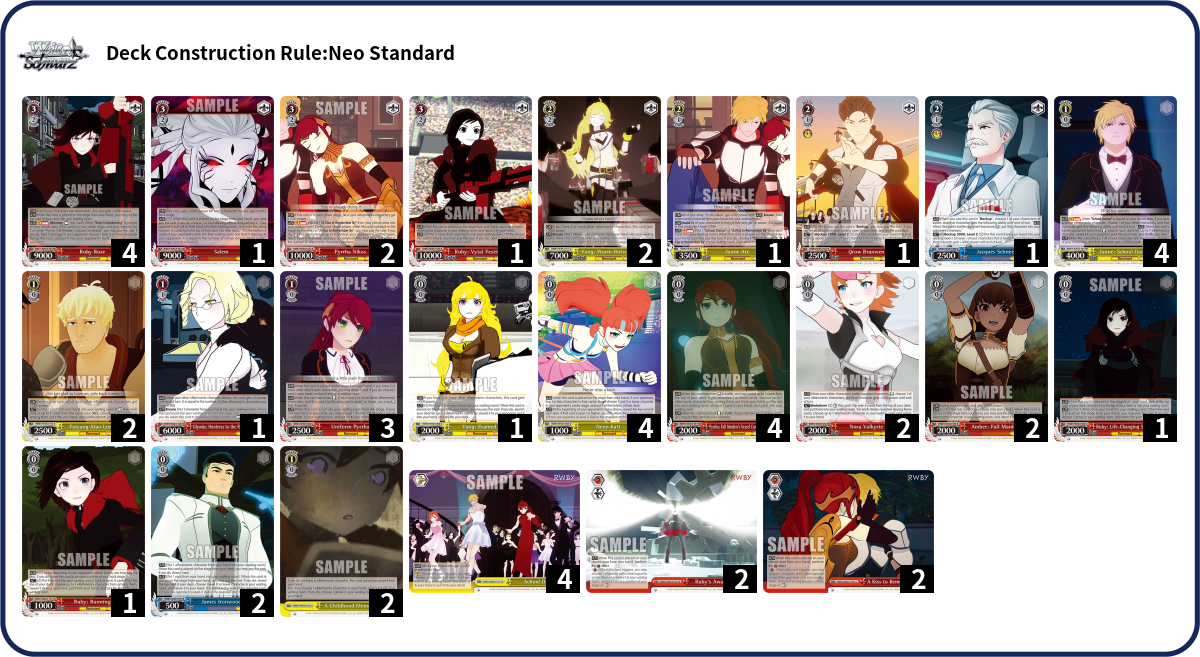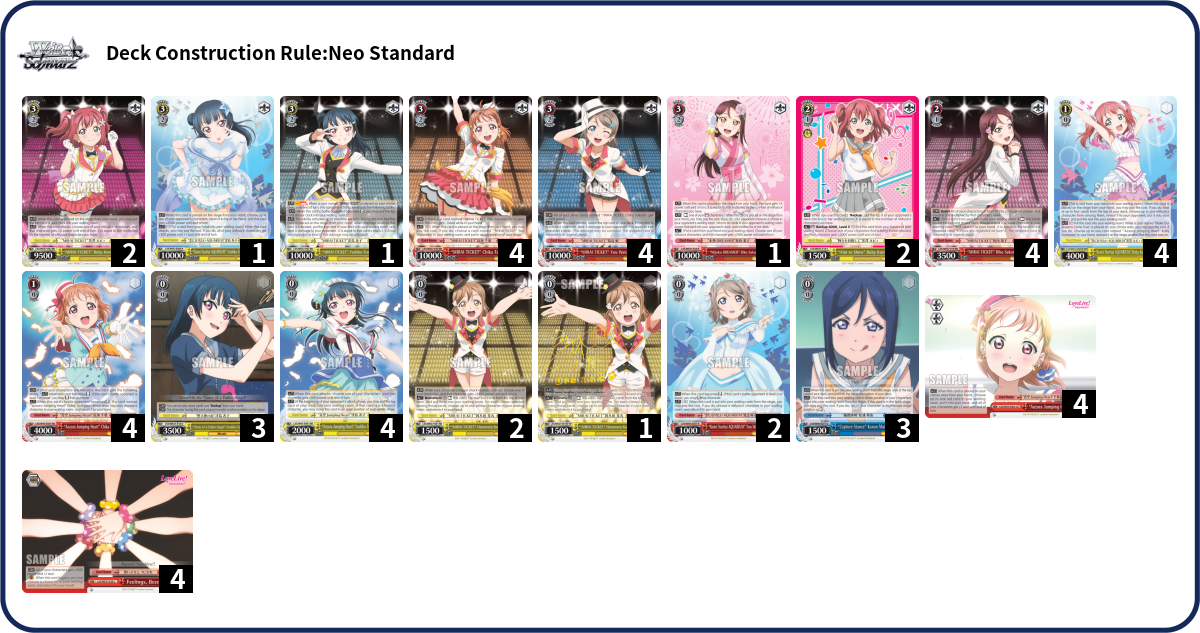 This 8 Standby Mushoku Tensei: jobless reincarnation-centric metagame continued for the first six events of BSF2022, but was shaken up by the release of a certain title.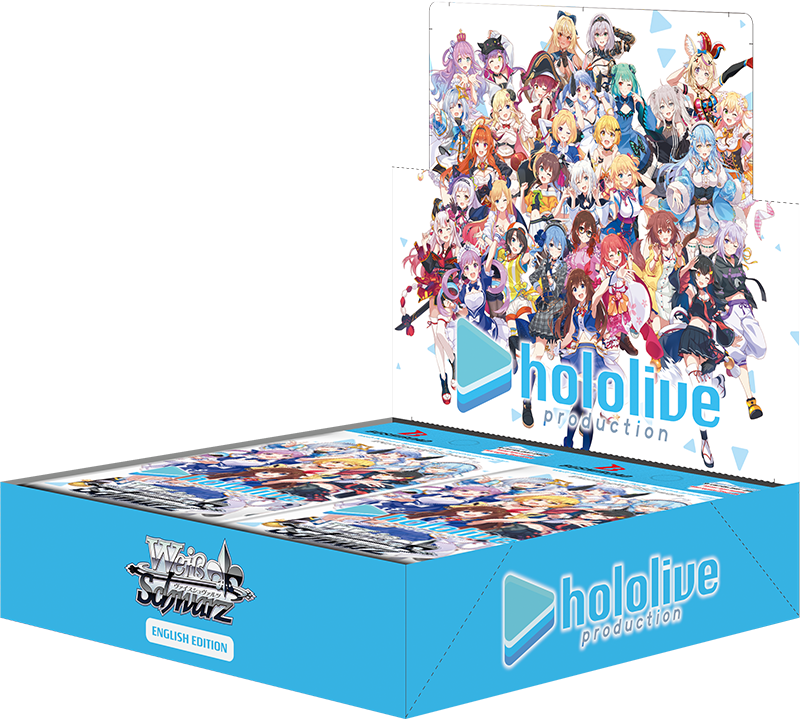 On May 13, hololive production made its dazzling debut into the English edition of Weiß Schwarz. The title immediately established itself as the second most popular title after Mushoku Tensei: jobless reincarnation for the latter half of the season, but unlike Mushoku Tensei: jobless reincarnation which generally stuck to similar deck builds hololive production had a wide range of different deck types see play. With players using so many different combos, it was difficult for opponents to know which version of hololive production they were facing, which may have contributed to the title's success.
hololive production's tournament presence peaked at the last two events of BSF2022, Sydney and Manila, both held on July 3, by being present in all top 4 teams in both events. Notably, hololive production builds began converging towards two builds from around this point. One build, known as the "Kanata/Marine" build, played On the Stage, Amane Kanata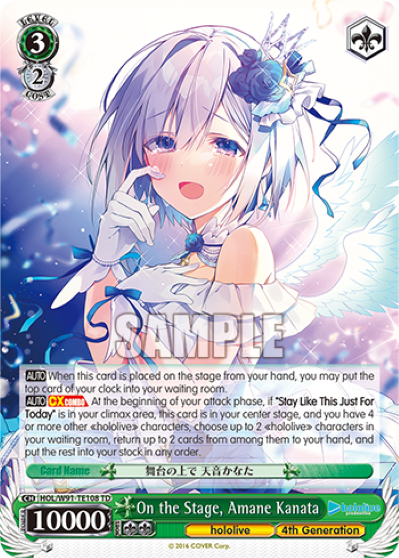 to heal and stabilize at level 2 while gaining resources to pivot into either Haachama Beam, Akai Haato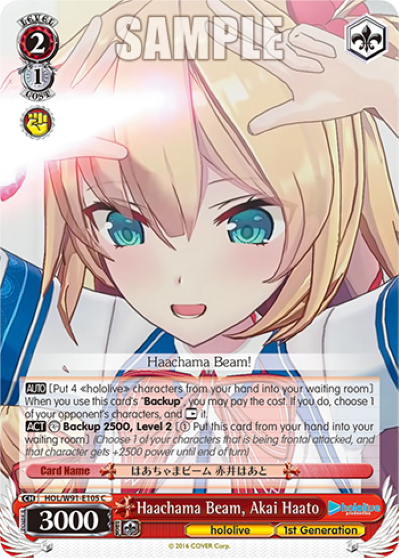 or Towards the Future Together, Houshou Marine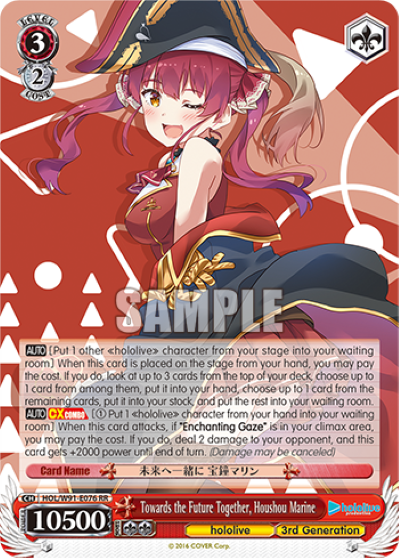 .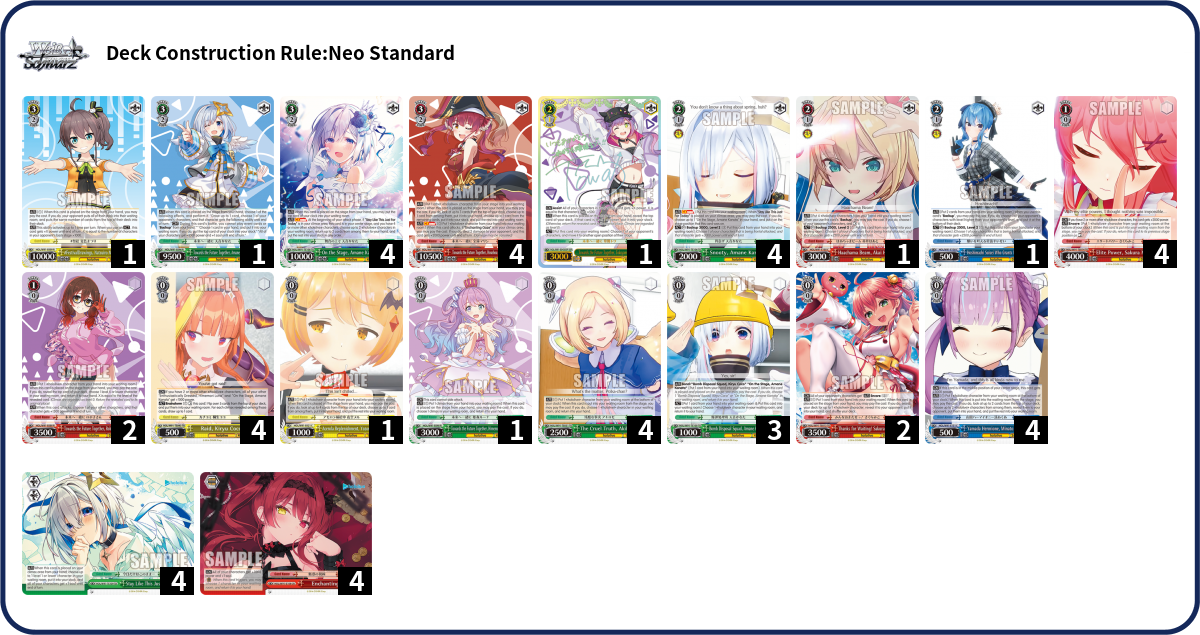 The other played a level 1 Choice combo (either Towards the Future Together, Tsunomaki Watame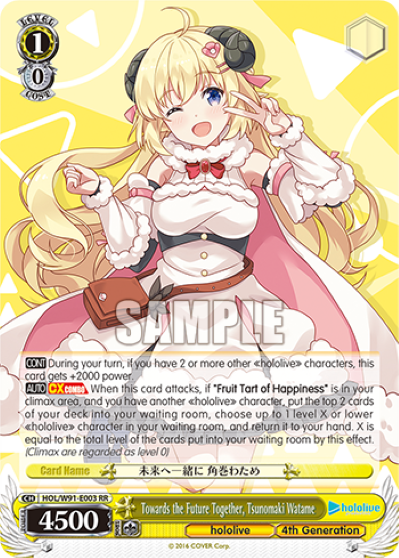 or Birthday Party, Inugami Korone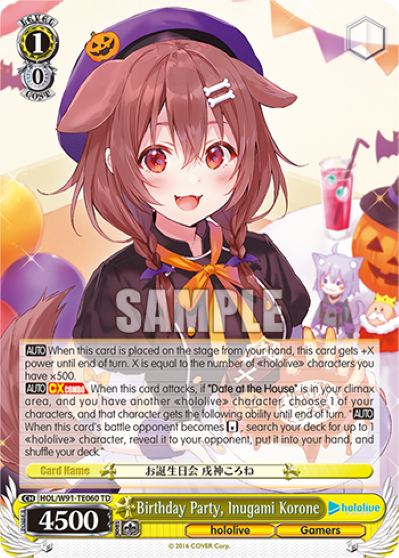 ) to search for disruptive cards to play at level 2 such as #TsunomakiArt, Tsunomaki Watame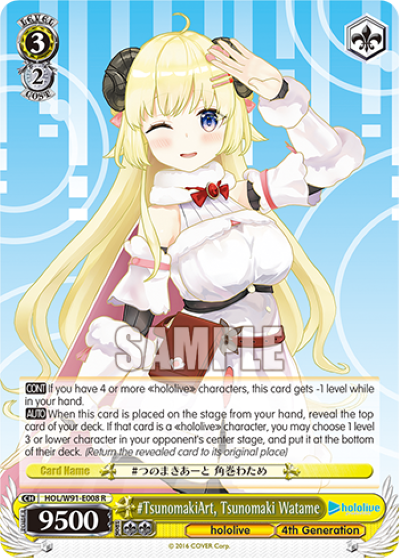 and Towards the Future Together, Shirogane Noel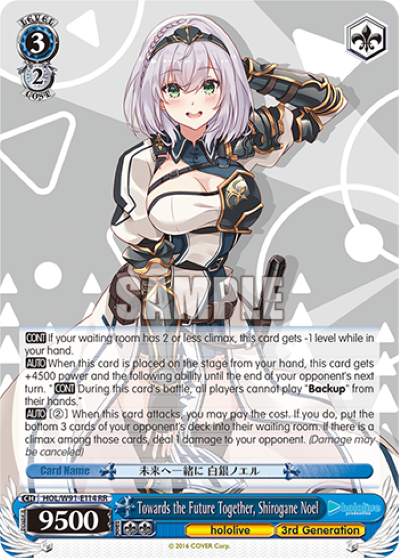 but also topped off its game with Towards the Future Together, Houshou Marine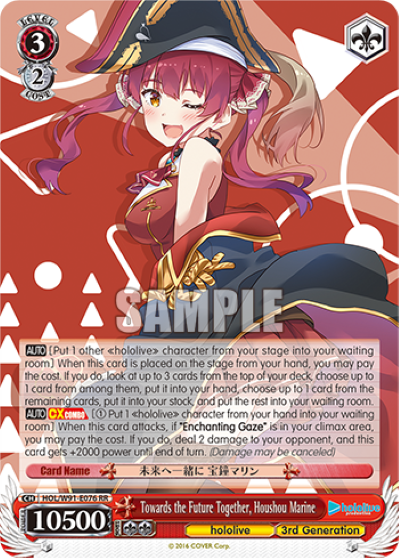 .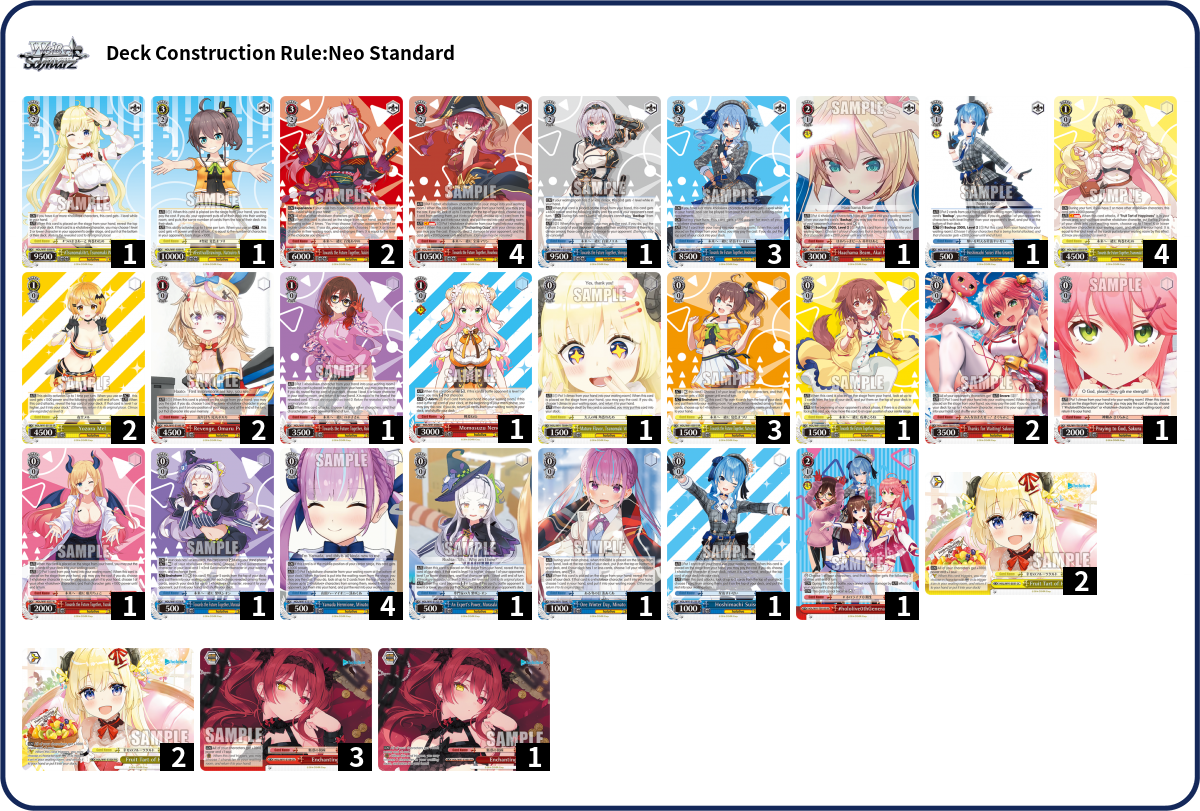 These hololive production deck trends would continue into the next tournament series.
BRO2022
Following BSF2022 was Bushiroad Rumble Online 2022 (BRO2022), the online tournament in which players could compete for the coveted exclusive art version of Declaration of War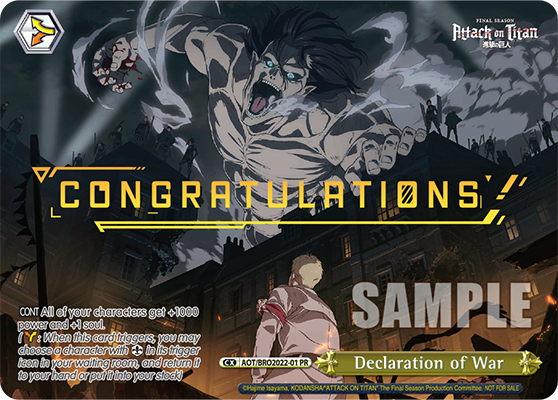 .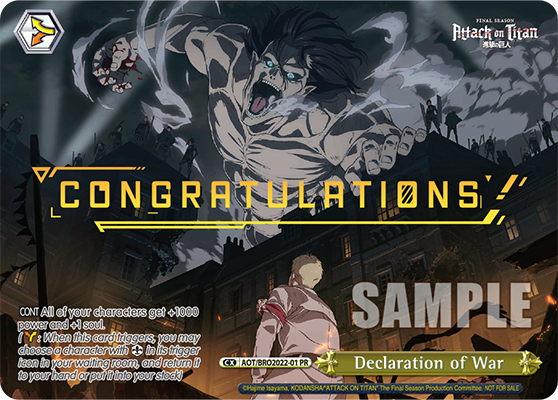 BRO2022's metagame was quite similar to that of BSF2022, however with two major additions: Is It Wrong to Try to Pick Up Girls in a Dungeon? and Tokyo Revengers.
The ability of the Comeback/Gate build of Is It Wrong to Try to Pick Up Girls in a Dungeon? to dish out damage while reliably and naturally contesting 8 Standby Mushoku Tensei: jobless reincarnation's 8,500 line by using cards like First Adventure, Bell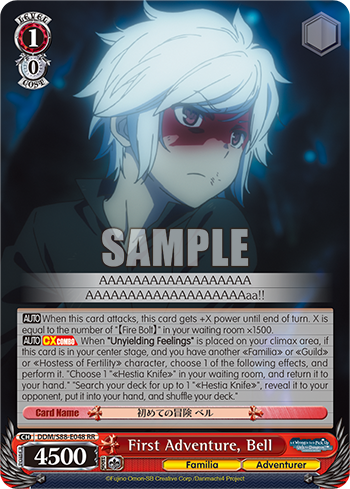 and Pyonkichi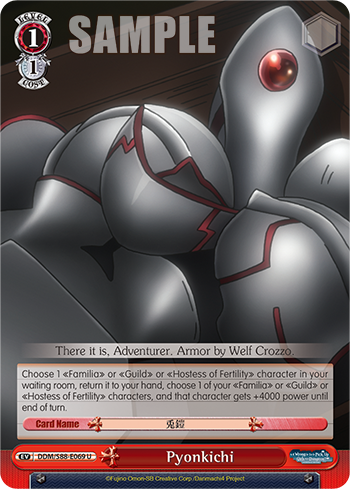 garnered a lot of attention as a way to finally combat the strongest Spring Fest deck without digressing from the deck's usual plan.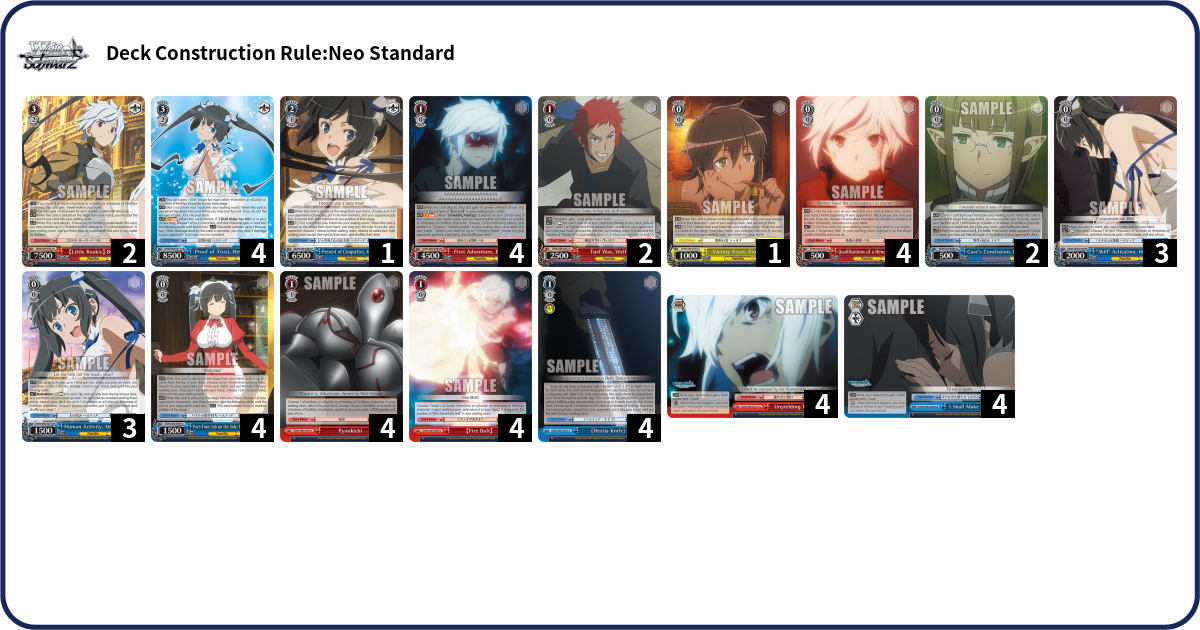 The most successful version of Tokyo Revengers on the other hand, was a highly unconventional deck which only attacked twice per turn from level 1! Commonly known as the 'Dual Lane' build, it capitalized on the ability of The Enemy In Front of You, Chifuyu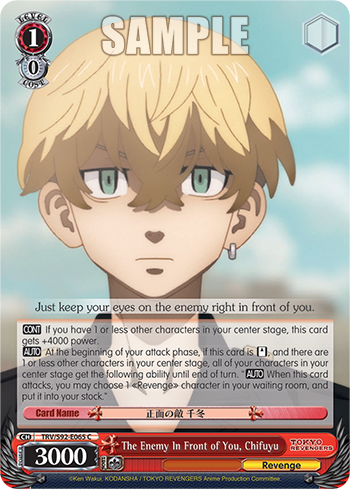 to generate unusually large amounts of stock to end the game with the explosive combination of Our Everything, Baji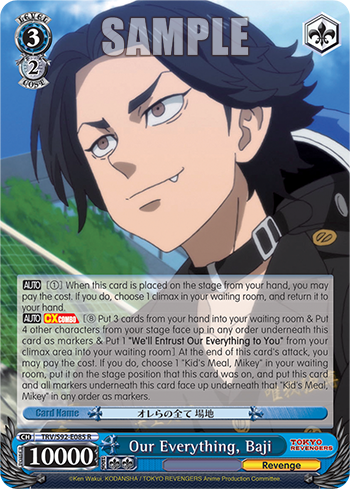 and Apologize Properly, Mitsuya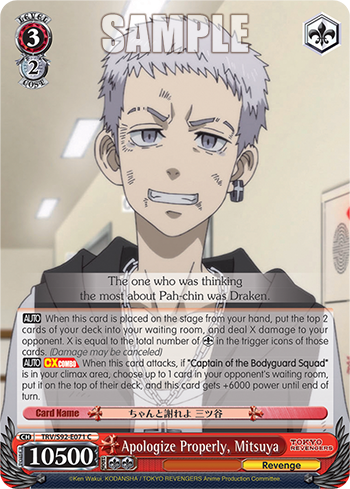 .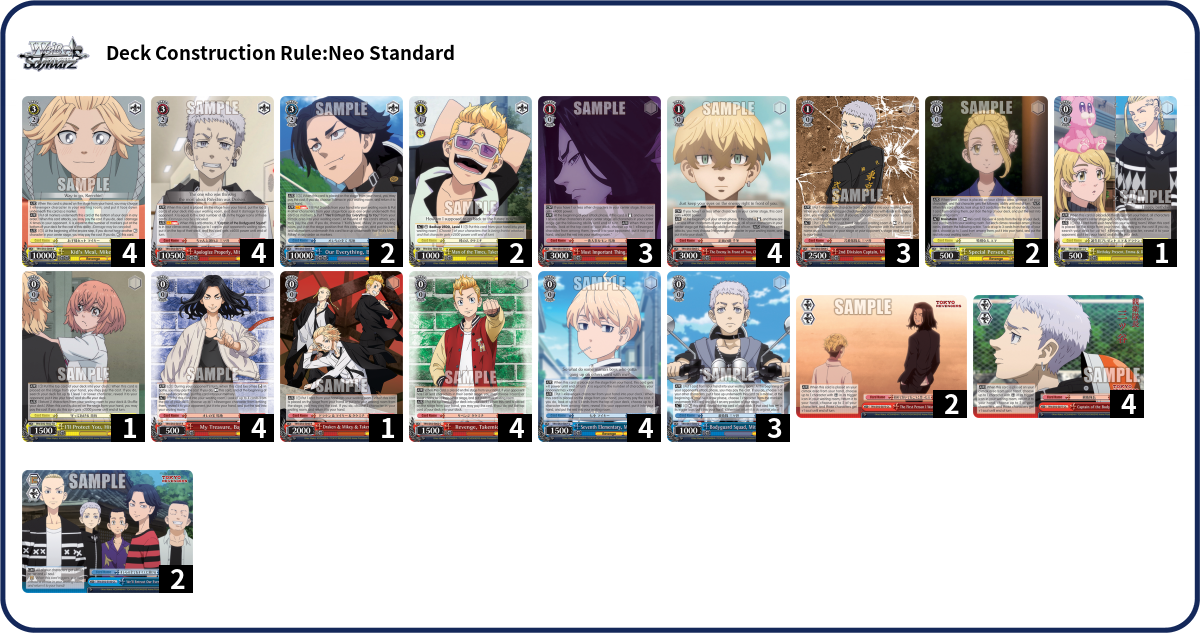 Players of these two decks posted some respectable results: Kuro won the NA/LA region tournament with Is It Wrong to Try to Pick Up Girls in a Dungeon?, and two others would finish in 2nd place and top 8 in the other tournaments. Tokyo Revengers players were also able to leave a mark with two top 8 finishes.
However, Mushoku Tensei: jobless reincarnation and hololive production still remained strong, being equal first in top 8 representation across the three regions and each winning a region's finals, by Freshcabbage in the AO tournament and WCC | Darcy in the EU tournament, respectively.
BCS2022 Regionals
Bushiroad Championship Series 2022 (BCS2022), the tournament series in which players competed for a spot in the world finals, started off in a similar spot to BRO — which was unsurprising, as the first event in Houston, Texas was only a week after BRO. Roshawn Ellis piloted 8 Standby Mushoku Tensei: jobless reincarnation to victory, and the other decks that made it to top 8 were all familiar faces from the previous tournament series. This would not last long though, as cards from The Quintessential Quintuplets 2 became available for use starting from the very next event.
Of the numerous builds upgraded with the booster, the 8 Standby variant of The Quintessential Quintuplets showed immediate success in the first weekend it was legal for play, being piloted to victory by Luke Tyler Smith in the Duluth, Georgia tournament.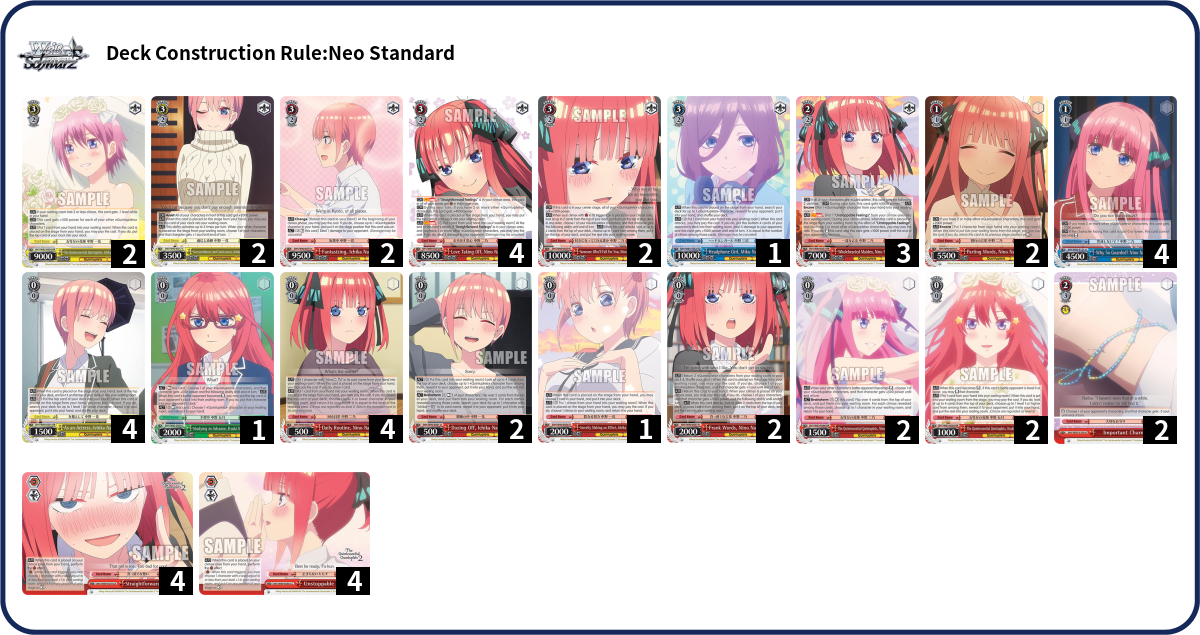 Despite having the same climax trigger lineup, the deck played very differently to 8 Standby Mushoku Tensei: jobless reincarnation, which Mushoku Tensei: jobless reincarnation played to defend its characters on the opposing turn and turn that control over the stage into an advantage, where 8 Standby The Quintessential Quintuplets used Standby to play aggressively and putting more damage-oriented characters on the stage, such as Wholehearted Maiden, Nino Nakano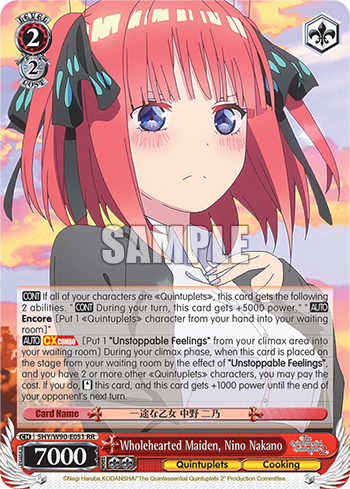 , Fantasizing, Ichika Nakano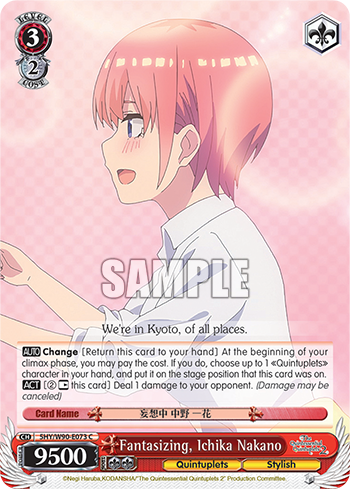 and Overconfidence and Carelessness, Ichika Nakano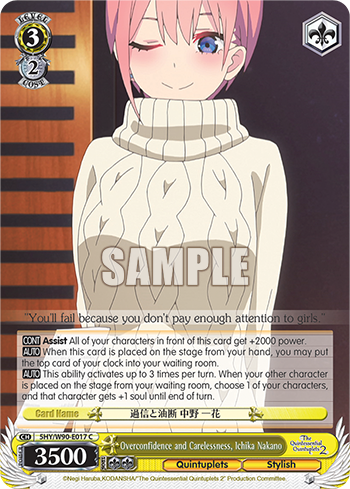 . This aggression could then be topped off by the cheap yet potent Love Taking Off, Nino Nakano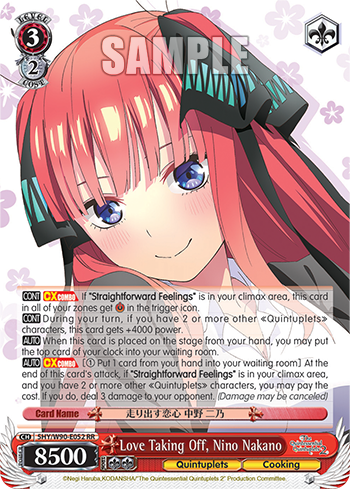 .
The Quintessential Quintuplets would continue to succeed throughout the regional tournament series, ending the season with the most tournament wins, top 3 finishes and top 8 finishes out of any title.
Another title that was elevated to a metagame contender by a mid-season expansion was Attack on Titan, graced by the English Edition Original Attack On Titan: Final Season.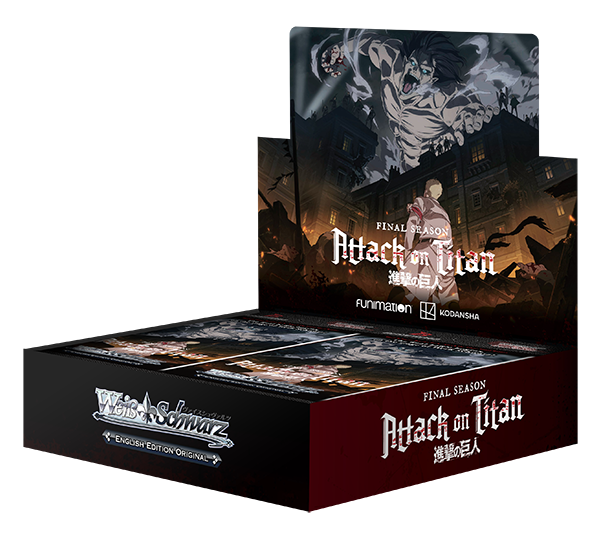 Since 2017, Attack on Titan has been an icon of the English edition of Weiß Schwarz, being a prominent deck in the metagame despite looking nothing like the builds popular in the Japanese edition, and being the favorite deck of two-time world champion Riaz Mohamed. The English original expansion meant that the title's comeback to the metagame would again be with builds not seen before in Japan.
The most popular build of Attack on Titan among the decks that made top 8 used the new Mikasa: Recovery Mission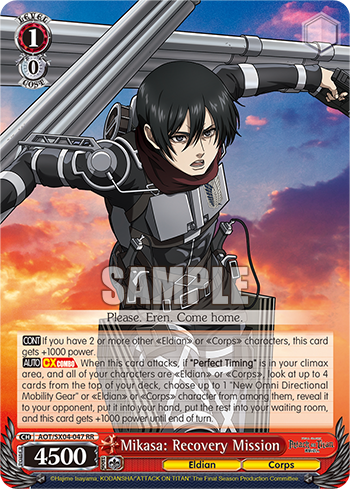 combo, yet interestingly, two of the three players who won their respective regional tournaments with the title both used the 8 Gate variant using the Reiner: Haunted by His Own Advice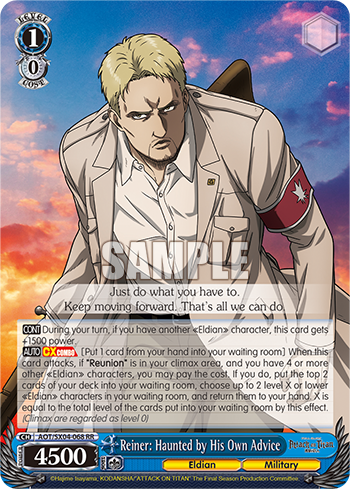 and Armored Titan: Show of Resistance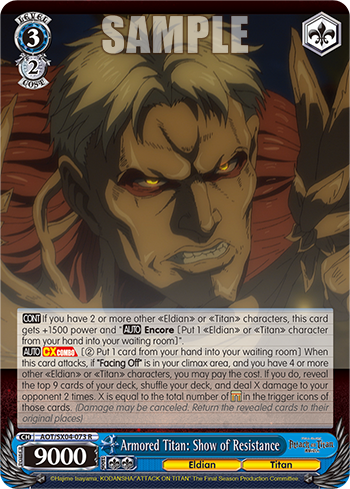 combos.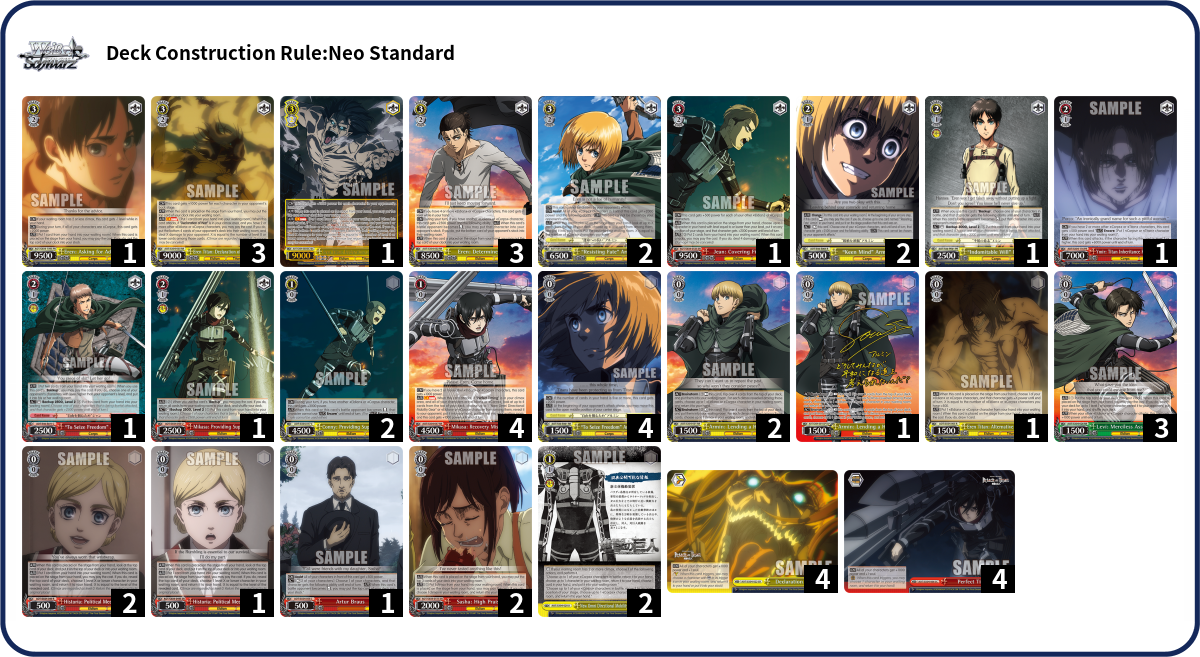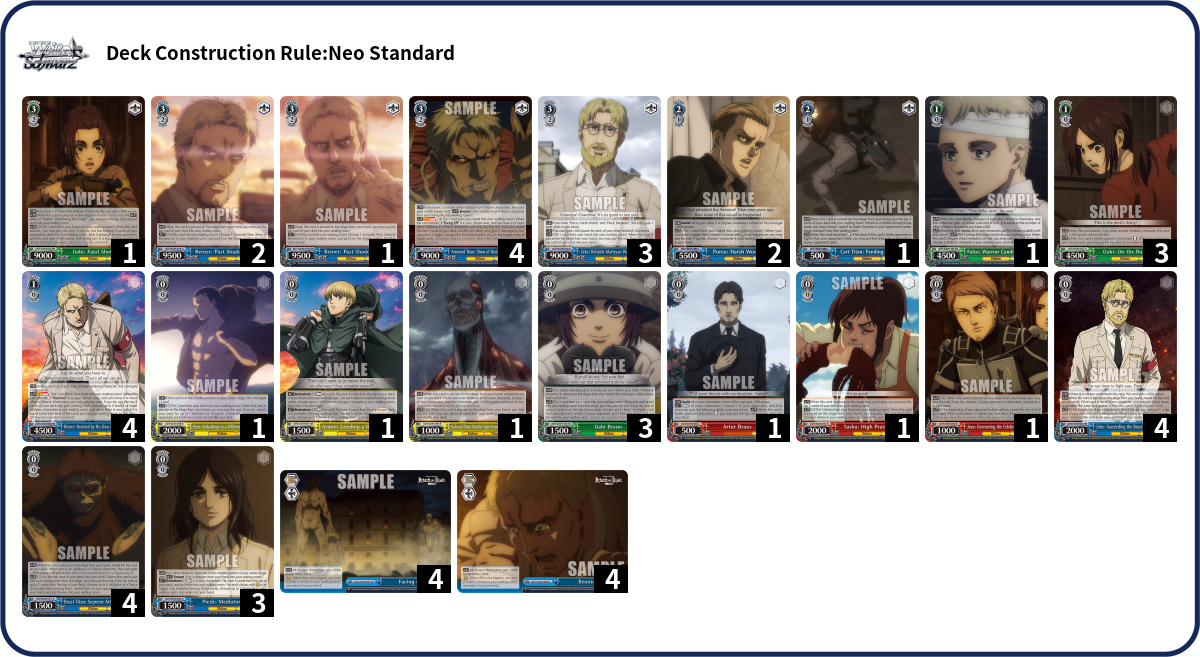 The final mid-season shakeup came in the form of a restriction list update.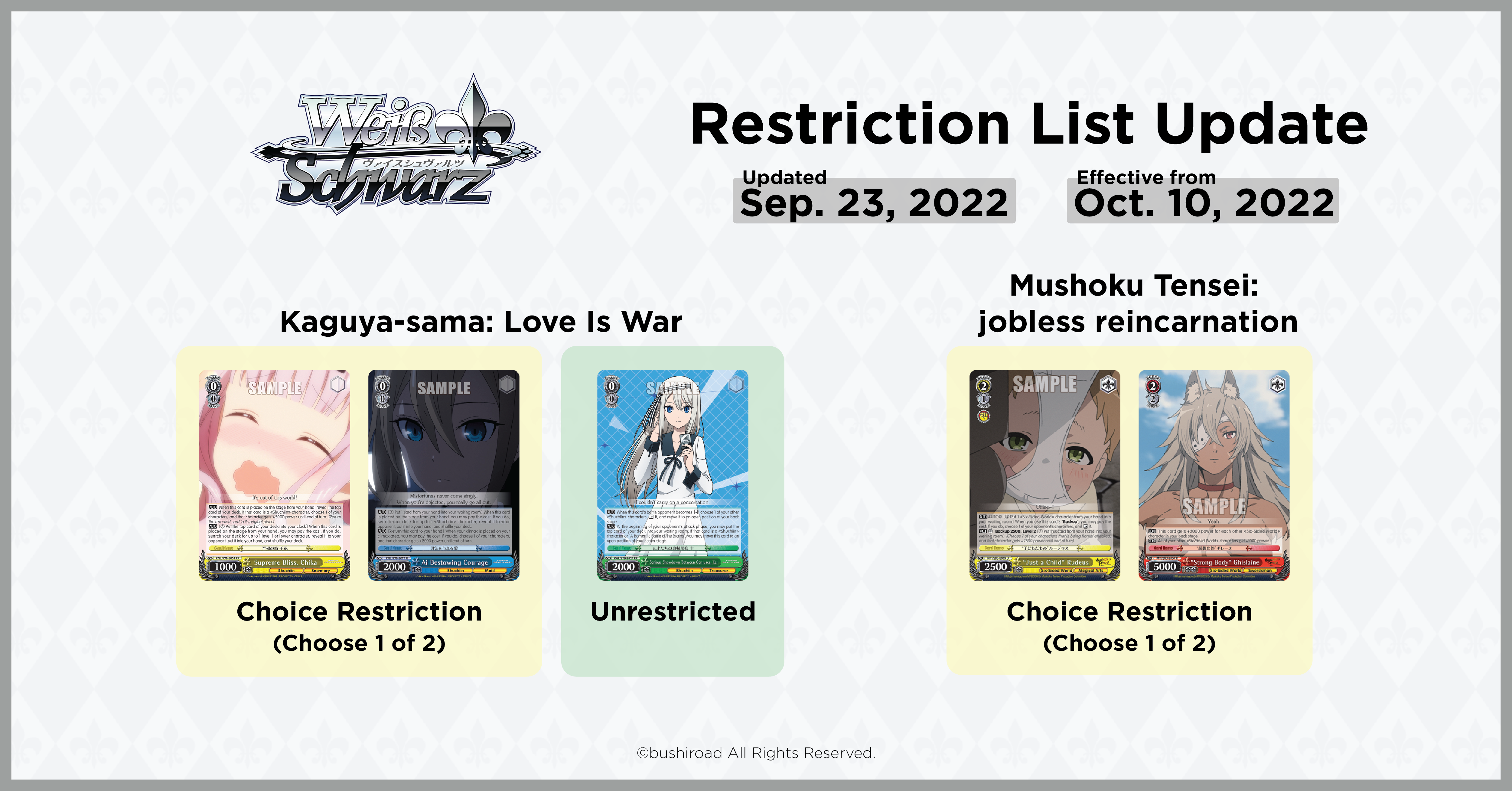 A choice restriction was placed on Mushoku Tensei: jobless reincarnation, forcing players to choose between the stable power line offered by "Strong Body" Ghislaine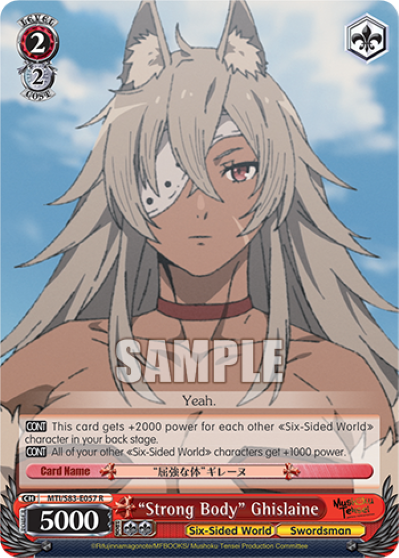 or the defensive play offered by "Just a Child" Rudeus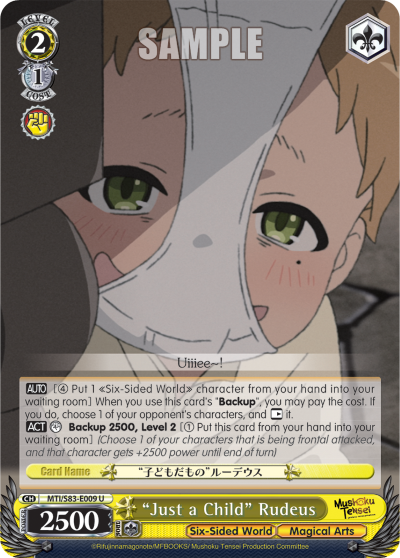 . While this was a heavy restriction on the title, Mushoku Tensei: jobless reincarnation had not been a popular title since the advent of The Quintessential Quintuplets 2, and the restriction was considered by many to have minimal effect on the metagame. Yet, seemingly against the odds, Mark Guan would go on to win both Sydney and Melbourne events with the deck, showing that the deck was still not out of the picture.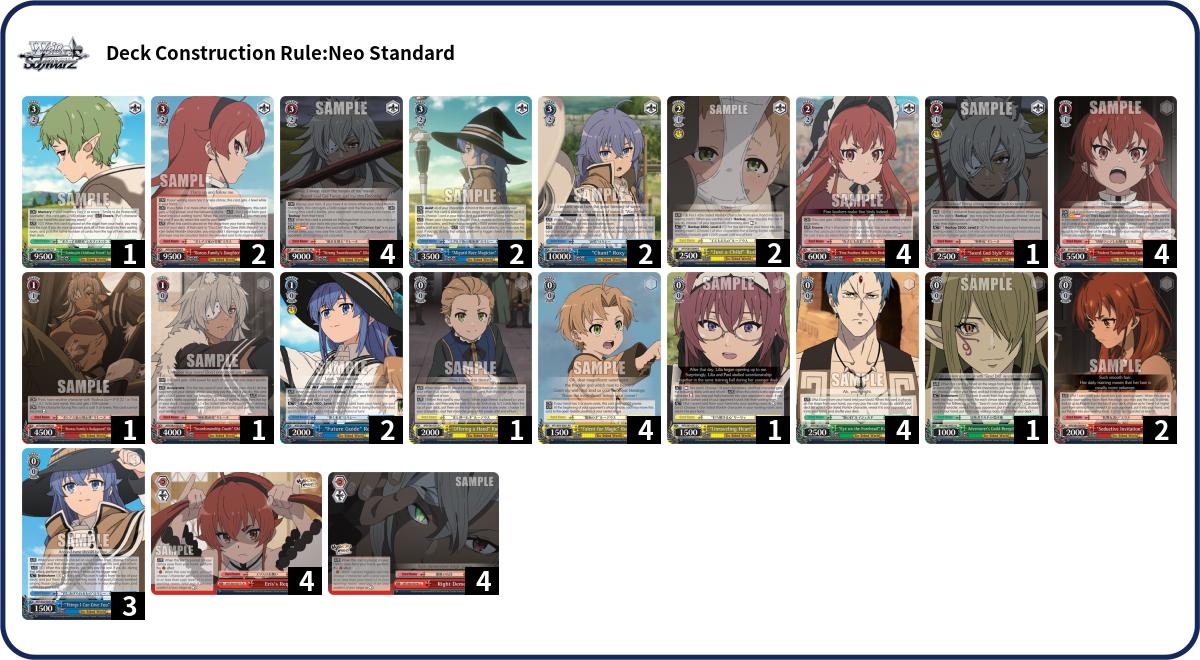 Meanwhile, Kaguya-sama: Love is War had Serious Showdown Between Geniuses, Kei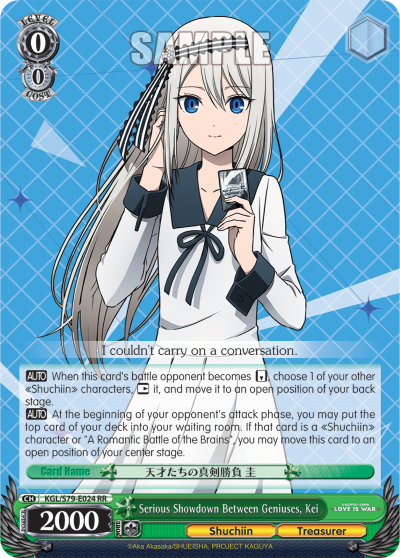 newly unrestricted. Kaguya-sama: Love is War was first restricted before it was legal in any in-person events, so it was a breath of fresh air for players of the title, and even went on to win the Philippines event in the hands of Raphael Tesson Guevarra!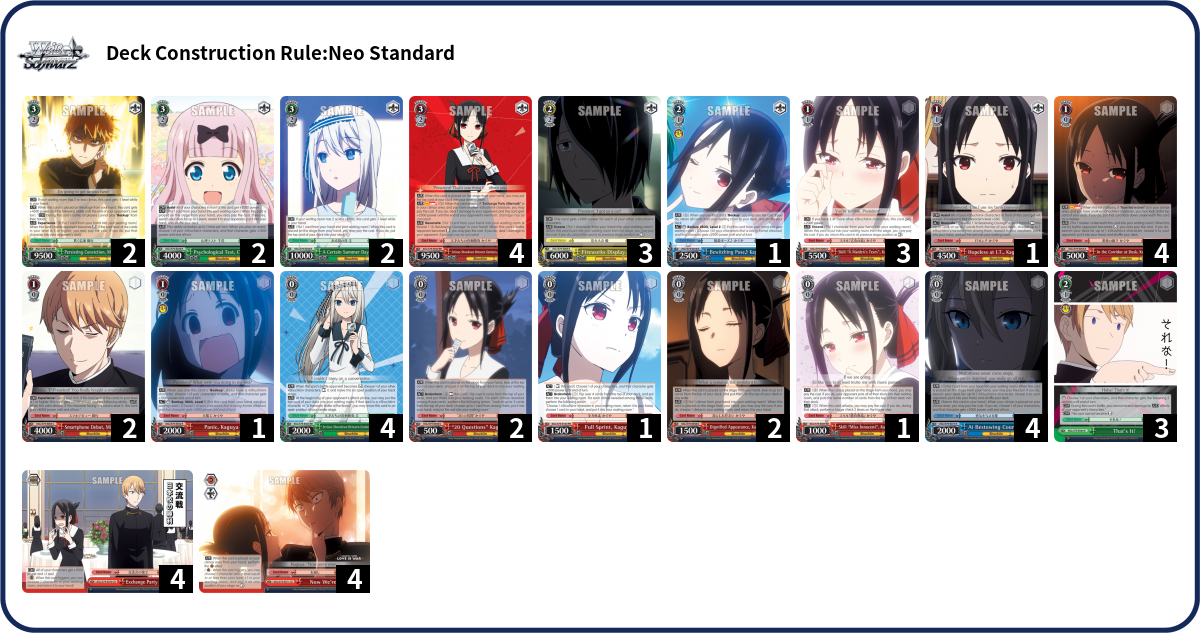 Overall, the season ended up quite diverse, despite the clear centralisation around 8 Standby The Quintessential Quintuplets. The title won a whopping 16 players invitations to worlds, which accounts for over a quarter of the total number of invitations given. In an incredibly close second place was hololive production, with 15 invitations won, but there was more deck diversity within the title, leading to it exerting less presence compared to The Quintessential Quintuplets.
BCS2022 World Finals
There were two major changes to the metagame between the final regional tournament and the World Finals.
The first came in the form of the release of
he Seven Deadly Sins: Revival of The Commandments.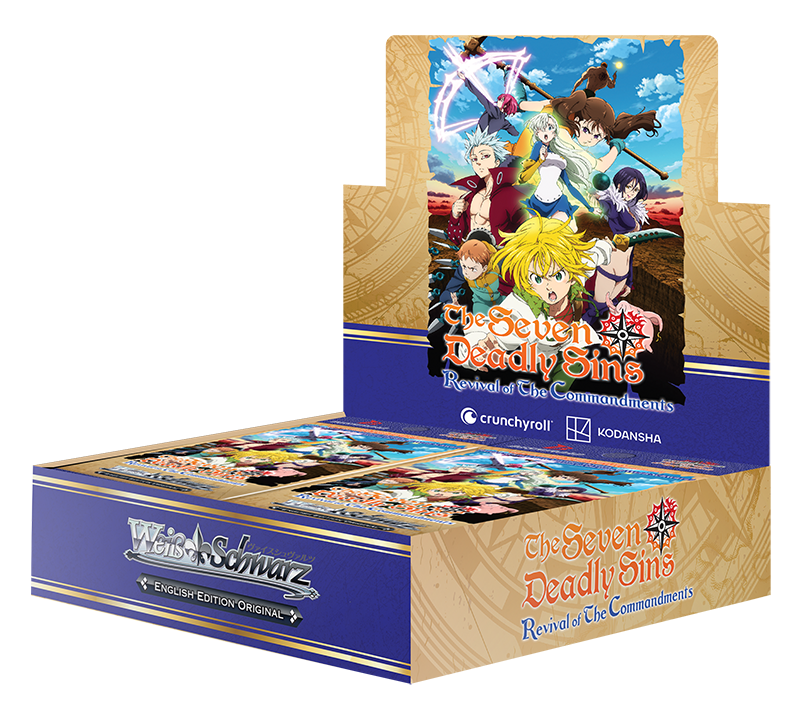 This was the first time that a second booster was released for an English original title, and it certainly packed a punch with many new cards; some powerful, some unique, and others both.
Of the new cards, Escanor: Arrogant and Powerful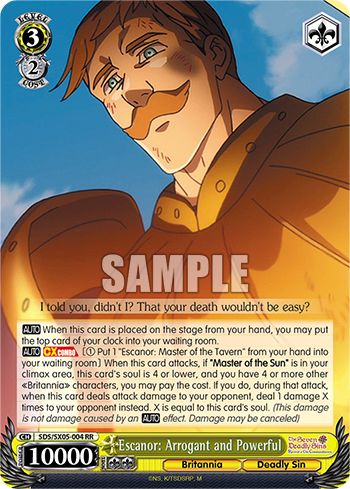 gained a lot of traction. His climax combo which allowed him to deal his attack damage as separate instances of 1 worked perfectly with Elizabeth: Trust in the Promise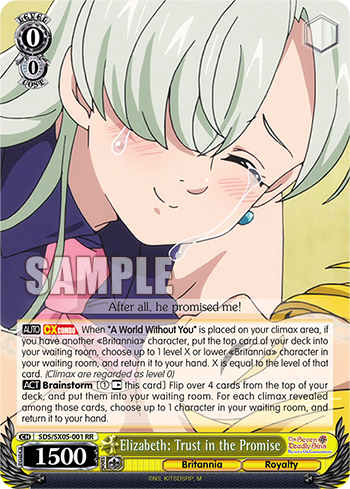 from the same booster, whose combo climax has 2 soul triggers. With this, The Seven Deadly Sins could play aggressively in the early game without losing hand while also setting up for Escanor: Arrogant and Powerful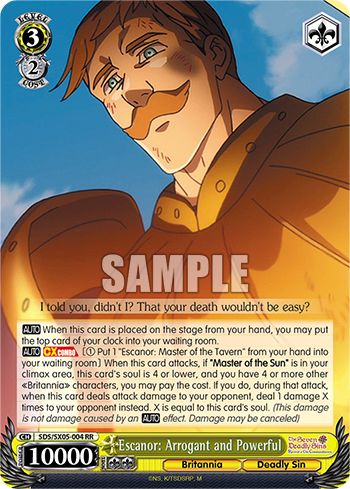 to deal six instances of 1 damage in the end game.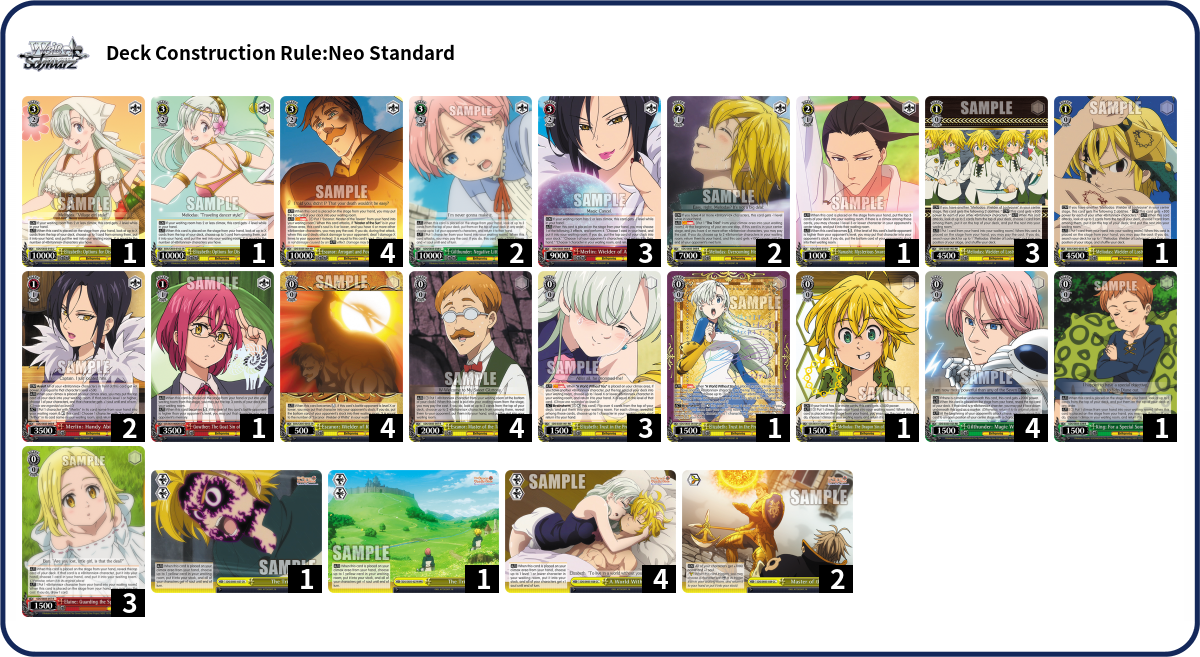 The other metagame changer was the new restriction placed on the highest performing deck of BCS: The Quintessential Quintuplets players had to now decide between Daily Routine, Nino Nakano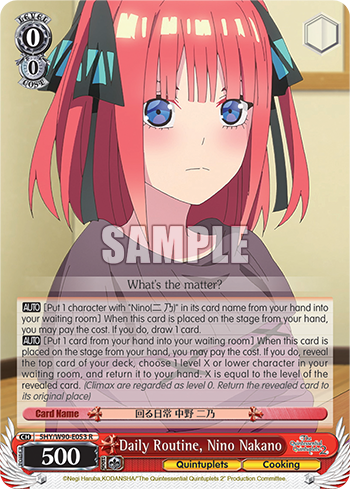 and Important Charm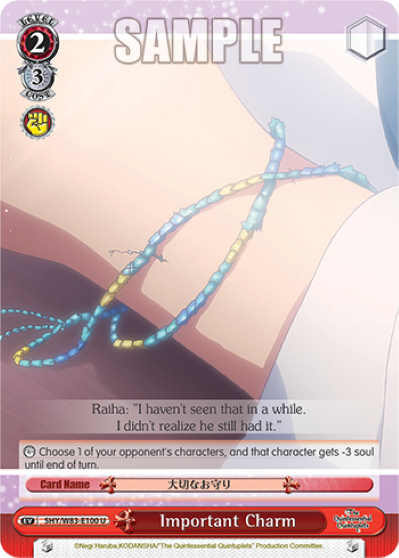 .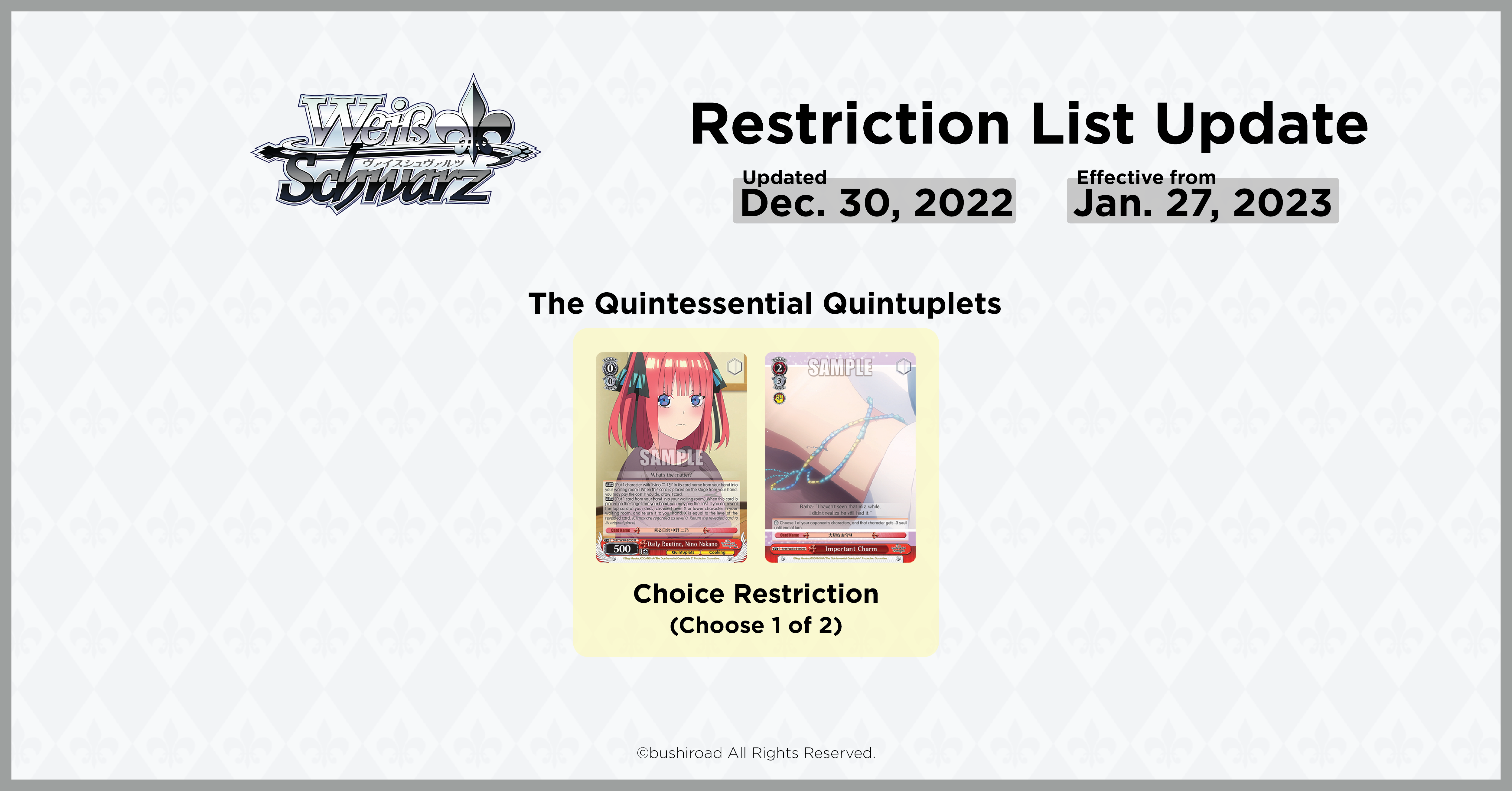 Choosing the former meant a loss in defensive tools, which could be a detriment in the new Escanor The Seven Deadly Sins matchup, but choosing the latter would fundamentally change the way that the deck played. Although the restriction did not seem like a game changer, it was sure to have an effect on the meta and players had to read well into the competition to choose their decks for the world finals.
These two titles ended up monopolizing the top 4 places of the World Finals, with two 8 Standby The Quintessential Quintuplets decks and two Escanor The Seven Deadly Sins decks. The finals was a fierce showdown between William Tang from Vancouver and Michael Doolittle from Toronto, both opting to play Daily Routine, Nino Nakano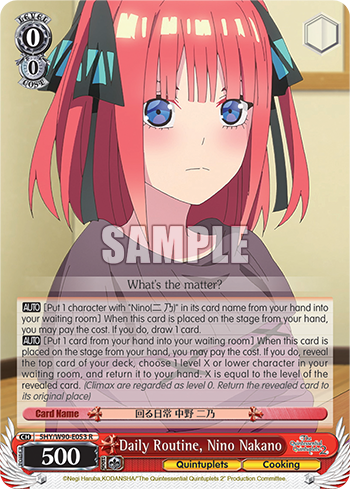 in their The Quintessential Quintuplets decks. Michael played a more conventional list compared to William who played less popular cards such as Devoted Feelings, Miku Nakano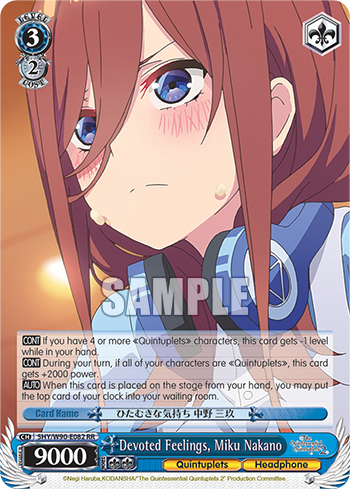 and Intimate Sisters, Ichika Nakano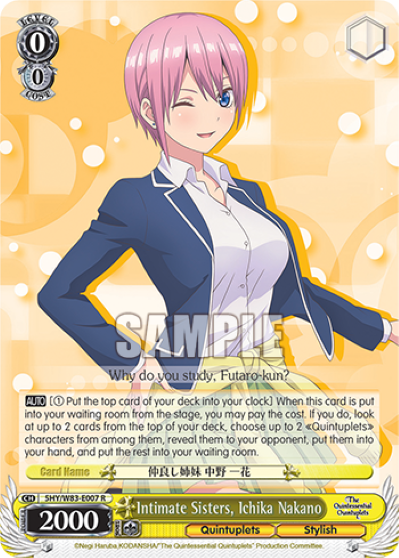 , as well as above-average copies of Firm Resolve, Nino Nakano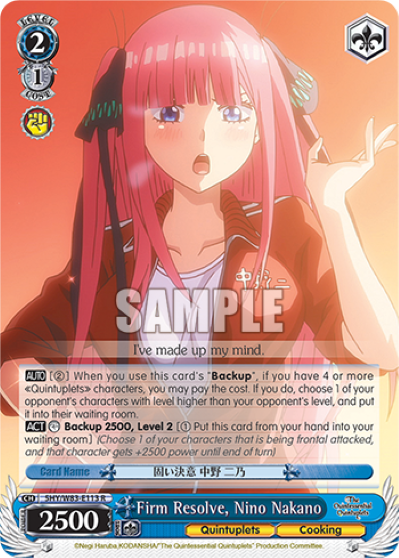 and Frank Words, Nino Nakano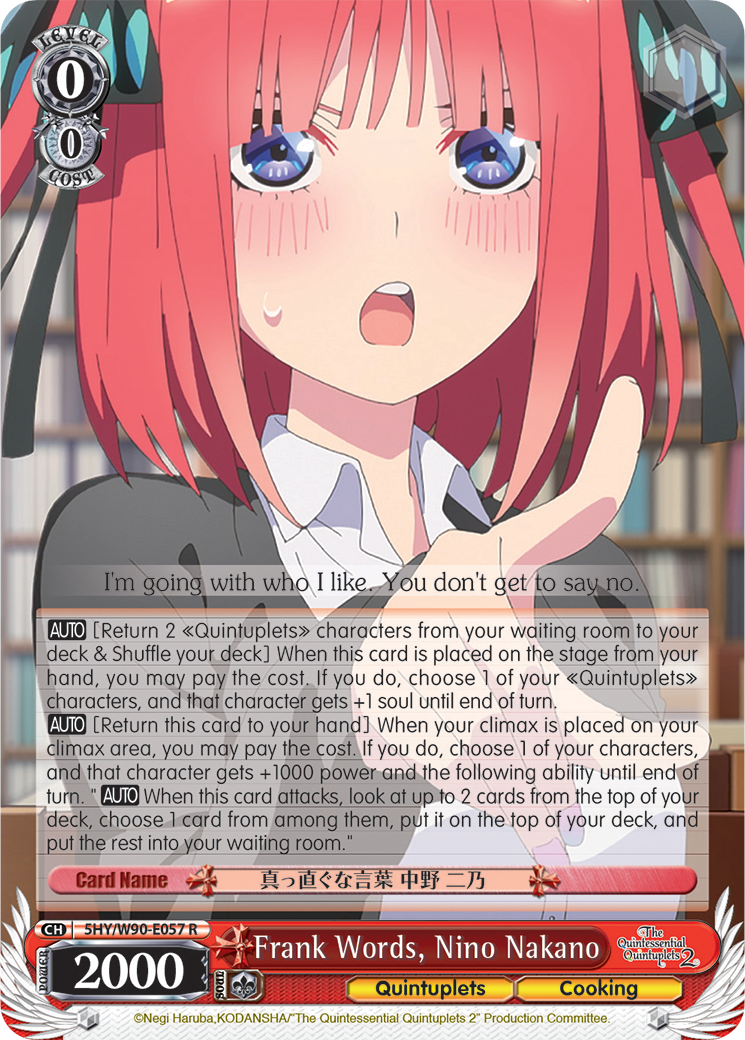 .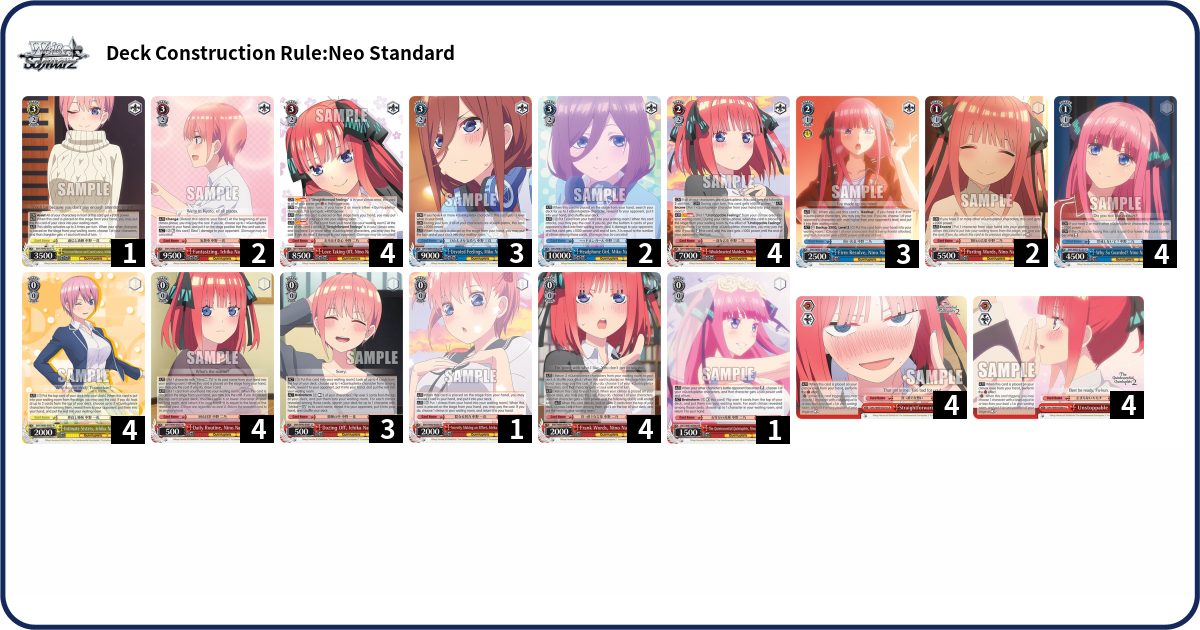 Willam's aggressive strategy utilizing Frank Words, Nino Nakano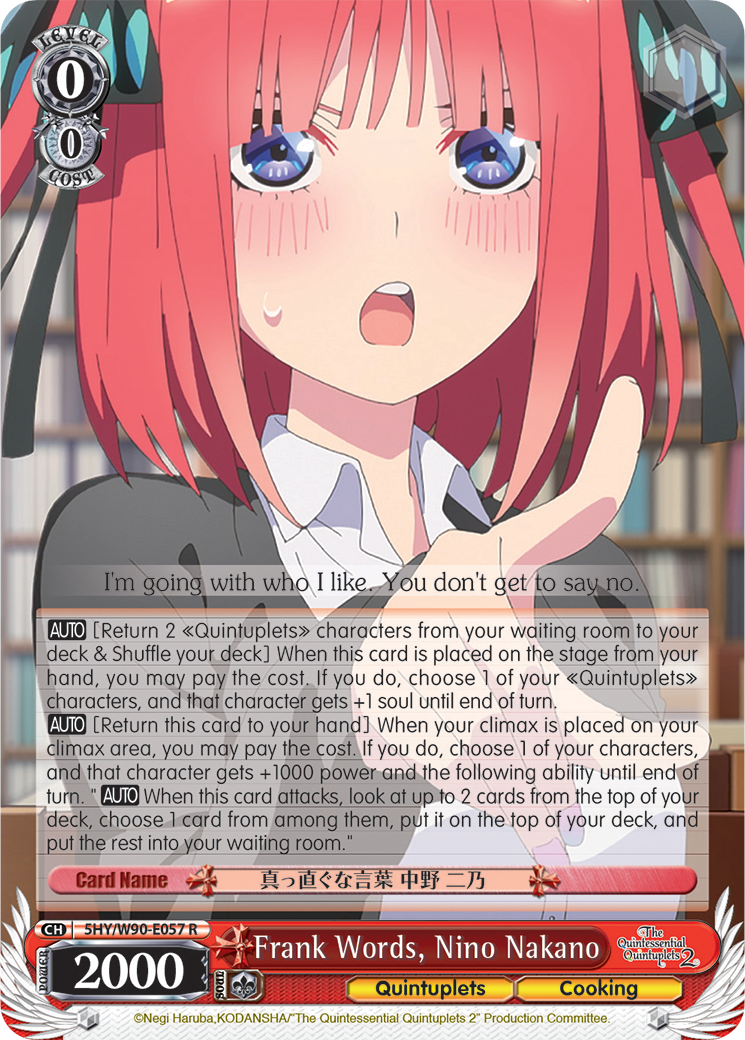 to increase soul repeatedly won out in the end, crowning him the BCS2022 world champion!
2022 was an incredible year for the game, with centralized yet diverse metagames developing throughout. I hope I've been able to share with you some insight on the metagame trends of these tournaments.
I'm sure that the heat of the world finals still lingers in our hearts, but BSF2023 is just around the corner, and there are many exciting new titles being released this year, including the English Original Avatar: The Last Airbender and Guilty Gear: Strive. I hope you're all just as excited as I am for the upcoming year of Weiß Schwarz!
---
Ken Takahata is a Weiß Schwarz player from Sydney, Australia who began playing in 2011. Most recently casting BCS2022 World Finals, he is an active member of the community who plays in, judges for and casts for tournaments. When not playing Weiß Schwarz, he usually watches or talks about anime and movies. You can follow him on Twitter at @zabuton78.