Release Date: February 26, 2016
■ Trial Deck NISEMONOGATARI

Trial Deck "NISEMONOGATARI" is a pre-constructed new product made from cards found in the "NISEMONOGATARI" Booster Pack and cards that were given out as PR cards in the Japanese Edition!

2 types of exclusive RRR Foil cards are randomly inserted in decks!

4 exclusive cards not found in the Booster packs are included in this Trial Deck!

– Pre-constructed Trial Deck *

*Same content for each deck.*
– 50 cards per deck
– 6 decks per display
– 8 displays per carton
– Rule sheet, deck manual, playbook, and playmat included.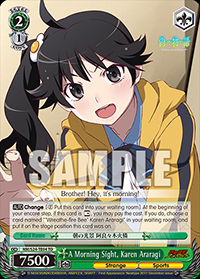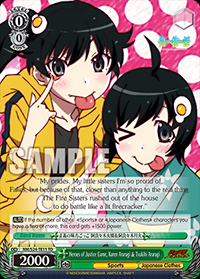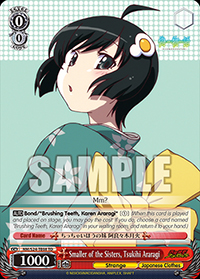 Release Date: February 26, 2016
■ Booster Pack NISEMONOGATARI

This awaited series has finally appeared in the English Edition of Weiss Schwarz !!!

The sequel of NISEMONOGATARI, OWARIMONOGATARI is currently airing on Crunchyroll and Daisuki.net!!!

Exclusive Gold Foil Hot Stamp
signed cards by the Fire Sisters are
randomly inserted into packs!

Karen Araragi: Eri Kitamura
Tsukihi Araragi : Yuka Iguchi
Total of 2 types available!

– 80 types of cards + 16 parallels
– 8 cards per pack
– 20 packs per display
– 16 displays per carton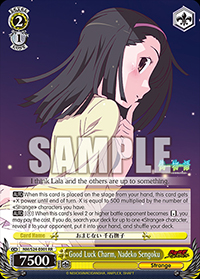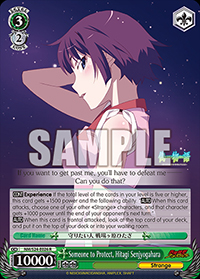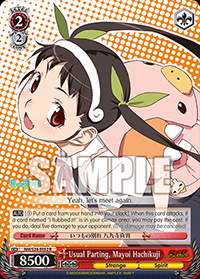 Release Date: February 26, 2016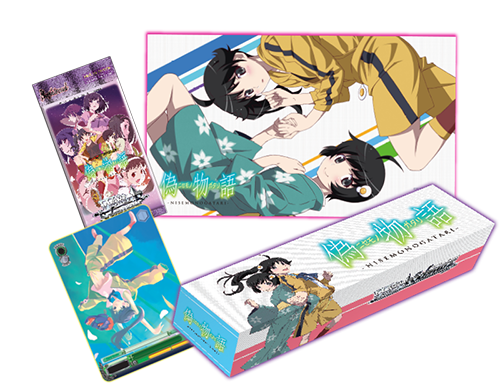 ■ Meister Set NISEMONOGATARI
The "Meister Set" is a new series of products aimed at collectors of the highly popular Bushiroad Weiss Schwarz products!
The Meister Set will come with a Rubber Mat, Storage Box and a PR card. All of these items are exclusive to the "Meister Set"!
The storage box can hold approximately 700 cards inside!
The Meister Set also contains 10 Booster Packs from "NISEMONOGATARI". Cards included in the Packs are the same as the Booster Pack "NISEMONOGATARI"!
Packs:
-80 types of cards + 16 parallels
-8 cards per pack
This product contains the following items:
-Rubber Playmat
-Storage box
-Exclusive PR card
-10 booster packs from "NISEMONOGATARI"
※ English and Japanese edition cards may be played together in tournament formats (Excluding Japan). However, language restriction may apply in major tournament formats.
※ English edition cards cannot be used in official tournaments that are held within Japan.
※ Weiβ Schwarz English Edition does not include gold/silver campaign coupon.