Release Date: October 14, 2016
■ Booster Pack Fate/kaleid liner PRISMA ILLYA DX

This long awaited Booster Pack for Fate/kaleid liner PRISMA ILLYA DX is finally unleashed in the English Edition of Weiß Schwarz!
Featuring cards from the Japanese Edition of Fate/kaleid liner PRISMA ILLYA and Fate/kaleid liner PRISMA ILLYA 2wei!
Extra Boosters! Collect the 7 Class Cards with Illya and her friends!

7 types of exclusive SP Gold Foil/Hot Stamp signed cards from the following Japanese voice cast are inserted randomly in packs!
■Illyasviel von Einzbern: Mai Kadowaki
■Miyu Edelfelt: Kaori Nazuka
■Chloe von Einzbern: Chiwa Saito
■Rin Tohsaka: Kana Ueda
■Luviagelita Edelfelt: Shizuka Itoh

Fate/kaleid liner PRISMA ILLYA DX will consist of cards from the following Japanese Releases:
■Fate/kaleid liner PRISMA ILLYA
■Fate/kaleid liner PRISMA ILLYA 2wei!
Fate/kaleid liner PRISMA ILLYA DX is NOT Neo-standard with the Fate series (Fate/Zero and Fate/stay night [Unlimited Blade Works]).

There will be changes to the Rarities, but not the Card Abilities with reference to the Japanese Edition.
Certain Parallel foil cards from the Extra Boosters will not be included.

– 86 types of cards + 19 Parallel
– 8 cards per pack
– 20 packs per display
– 16 displays per carton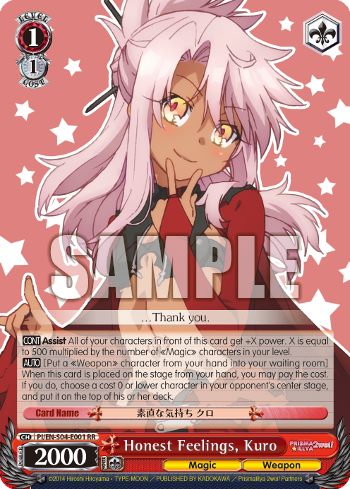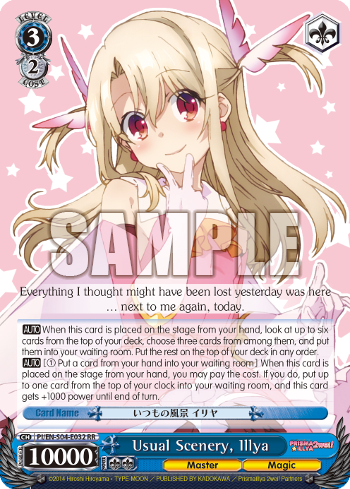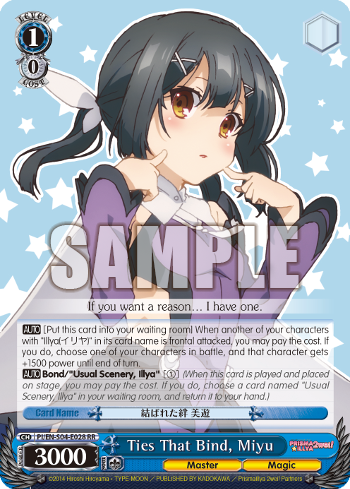 ※ English and Japanese edition cards may be played together in tournament formats (Excluding Japan). However, language restriction may apply in major tournament formats.
※ English edition cards cannot be used in official tournaments that are held within Japan.
※ Certain card specifications will differ from the Japanese edition cards.
※ Weiß Schwarz English Edition does not include gold/silver campaign coupon.