Booster Pack Disgaea
NOW ON SALE
Release Date: June 24, 2016
■ Booster Pack Disgaea

This long awaited Booster Pack is finally unleashed into the English Edition of Weis Schwarz !!!

Featuring cards from the Japanese Edition of Disgaea Booster Pack, Disgaea 4 Extra Booster and Disgaea D2 Extra Booster!

Conquer the world of Weis Schwarz with Laharl and his aides!

7 types of exclusive SP Gold Foil/Hot Stamp signed cards from the following Japanese voice cast are inserted randomly in packs!!

Laharl: Kaori Mizuhashi
Etna: Tomoe Hanba
Flonne: Yuuko Sasamoto
Sicily: Kaori Ishihara
Fenrich: Wataru Hatano
Fuka: Suzuko Mimori
DESCO: Manabi Mizuno

– 165 types of cards + 22 parallels
– 8 cards per pack
– 20 packs per display
– 16 displays per carton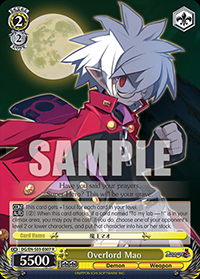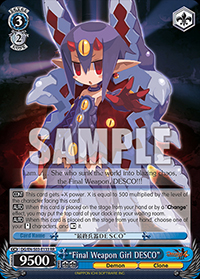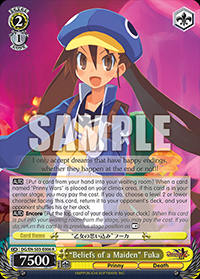 Release Date: June 24, 2016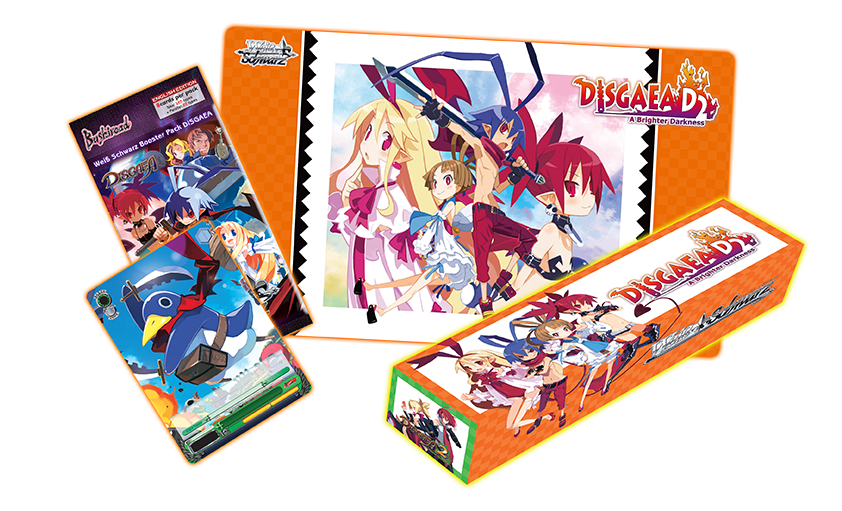 ■ Meister Set Disgaea
The "Meister Set" is a new series of products aimed at collectors of the highly popular Bushiroad Weis Schwarz products!
The Meister Set will come with a Rubber Mat, Storage Box and a PR card. All of these items are exclusive to the "Meister Set"!
The storage box can hold approximately 700 cards inside!
The Meister Set also contains 10 Booster Packs from "Disgaea". Cards included in the Packs are the same as the Booster Pack "Disgaea"!
Packs:
-165 types of cards + 22 parallels
-8 cards per pack
This product contains the following items:
-Rubber Playmat
-Storage box
-Exclusive PR card
-10 booster packs from "Disgaea"
Regarding Specifications of Trial Deck Disgaea and Booster Pack Disgaea
All cards that were in the Japanese Disgaea sets will be included in this upcoming release!!!
Sets will consist of cards from the following Japanese releases:
‐ Disgaea Booster Pack
‐ Disgaea Trial Deck
‐ Disgaea 4 Extra Booster
‐ Disgaea D2 Extra Booster
The new Trial Deck will have a new specification different from that of the Trial Deck "Disgaea ~Hour of Darkness~" released in 2009, with 18 exclusive cards out of 20 types.
・There will be changes to the rarities with reference to the Japanese Edition.
・Parallel foil Rare and Common cards from the Extra Boosters will not be included.
・No card ability changes with reference to the Japanese edition.
・All Cards from the previous English Disgaea Trial deck "Disgaea ~Hour of Darkness~" will be re‐issued.
Neo-Standard Products
※ English edition cards cannot be used in official Japanese edition tournaments.
※ Weiß Schwarz English Edition does not include gold/silver campaign coupon.