Booster Pack Cardcaptor Sakura : Clear Card
NOW ON SALE
Release Date: February 22, 2019
■ Booster Pack Cardcaptor Sakura : Clear Card

※Cards in this product may only be used in official Japanese Edition tournaments in the following countries: USA, Canada, Mexico, Chile, UK, Germany, France, Italy, Greece, South Korea, Philippines, Australia, New Zealand, Indonesia, Thailand, Malaysia and Singapore.

"My name is Sakura Kinomoto.
I just started my first year at Tomoeda Middle School."

Force without master,
Heed my Staff of Dreams.
Become my power. SECURE!

This set assembles
Sakura's friends from Tomoeda,
as they figure middle school life together!

Sakura's array of costumes
will also make an appearance,
with costumes being tied to specific
Clear Cards
and their unique abilities!!

Product Information
Multiple cards that strengthen the simultaneously released Trial Deck+ are available!
Every pack you purchase has a chance to contain a sign card by the following voice cast!!!
◆ Sakura Tange (as Sakura) 【2 types】 ◆
◆ Junko Iwao (as Tomoyo) ◆
◆ Aya Hisakawa (as Kero) ◆
◆ Motoko Kumai (as Syaoran) ◆
Beautiful original artwork that will appear in the product!


The cards in this Booster Pack may be used together with cards with card number beginning with 「CCS/」!
-100 types of cards + 26 Parallel
-8 cards per pack
-20 packs per display
-16 displays per carton
◆Box toppers
1 of 4 exclusive PR cards in every display box!
◆Carton toppers
4 English Edition exclusive Rubber Playmats included in every carton!
▼Carton topper playmat design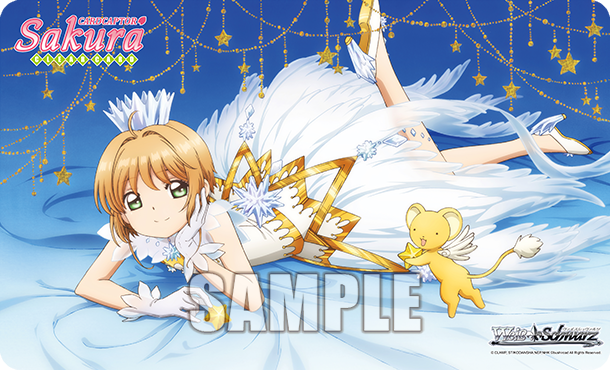 ※ First print run only.
※Image is for illustration purpose only. Product specifications are subjected to change.
Neo-Standard Product
※ Weiß Schwarz English Edition does not include gold/silver campaign coupon.