Booster Pack Sword Art Online -Alicization-
NOW ON SALE
Release Date: February 28, 2020
■ Booster Pack Sword Art Online -Alicization-

The original light novel sold over 22 million copies worldwide.
The wildly-popular anime series returns again to Weiß Schwarz with its third season!

The fascinating characters and key scenes of the virtual world "Underworld" are contained in this Booster Pack!

Product Information
★SIGN CARDS★
Every deck has a chance to contain a sign card by the voice cast!
◆ Yoshitsugu Matsuoka (as Kirito) ◆
◆ Nobunaga Shimazaki (as Eugeo) ◆
◆ Ai Kayano (as Alice Zuberg and Alice Synthesis Thirty) ◆
◆ Haruka Tomatsu (as Asuna Yuuki) ◆
☆★☆★☆
The cards in this Booster Pack may be used together with cards which have their card number beginning with 「SAO/」!
Total 100 types of cards + 31 types (Parallel)
8 cards per pack
20 packs per display
16 displays per carton
◆ Box toppers
1 of 6 exclusive PR cards in every display box!
◆ Carton toppers
4 English Edition exclusive Rubber Playmats included in every carton!
▼ Carton topper playmat design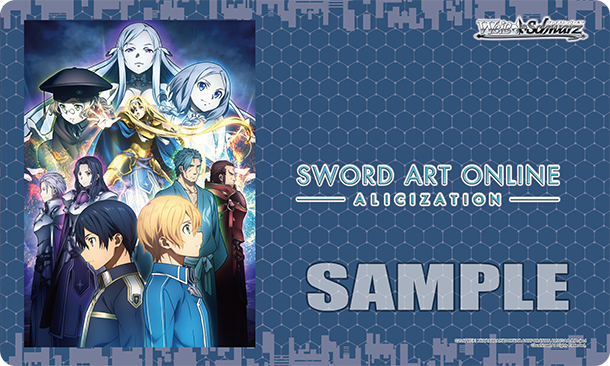 ※ First print run only.
※ Image is for illustration purpose only. Product specifications are subjected to change.
Blu-ray set + Exclusive PR card!


※Please note that the English edition version of "Memories That Shouldn't Exist, Alice" is different from the Japanese edition of the card "あるはずのない記憶" アリス.
Neo-Standard Products
※ English edition cards cannot be used in official Japanese edition tournaments.
※Weiß Schwarz (English Edition) does not include gold/silver campaign coupons.