Booster Pack GURREN LAGANN
NOW ON SALE
Release Date: July 5, 2018
■ Booster Pack GURREN LAGANN

Mark my words. This drill will open a hole in the universe.
And that hole will become a path for those that follow after us.
The dreams of those who have fallen. The hopes of those who will follow.
Those two sets of dreams weave together into a double helix, drilling a path towards tomorrow.

That's TENGEN TOPPA! That's GURREN LAGANN!

Including BRAND NEW abilities never before seen in Weiß Schwarz!

Picking up from the Trial Deck+, this Booster Pack focuses on scenes from the rest of the anime, until the end of the season.

Build a Team DAI-GURREN Deck!
Or perhaps a Beastmen Deck!
Or even an Anti-Spiral Deck!

Multiple cards that strengthen the prowess of cards from the simultaneously released Trial Deck+!

Product Information
Every pack you purchase has a chance to contain a sign card by the following voice cast!!!
Tetsuya Kakihara (as Simon)
Katsuyuki Konishi (as Kamina)
Marina Inoue (as Yoko)
Yukari Fukui (as Nia)
The cards in this Booster Pack may be used together with cards with card number beginning with 「GL/」!
-100 types of cards + 22 Parallel
-8 cards per pack
-20 packs per display
-16 displays per carton
◆Box toppers
1 of 4 exclusive PR cards in every display box!
◆Carton toppers
4 English Edition exclusive Rubber Playmats included in every carton!
▼Carton topper playmat design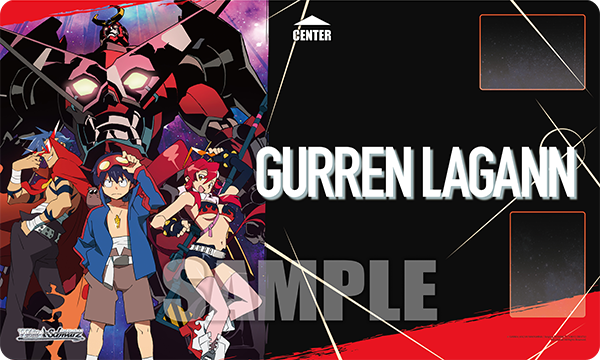 ※ First print run only.
※Image is for illustration purpose only. Product specifications are subjected to change.
Neo-Standard Product
Trial Deck+

GURREN LAGANN
※ English edition cards cannot be used in official Japanese edition tournaments.
※ Weiß Schwarz English Edition does not include gold/silver campaign coupon.