Booster Pack Adventure Time
NOW ON SALE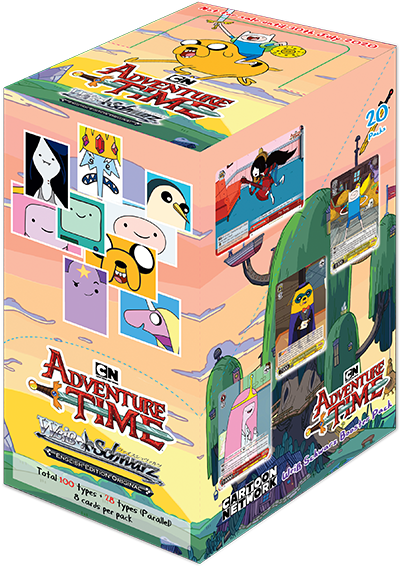 Release Date: November 20, 2020
■ Booster Pack Adventure Time

※ONLY FOR SALE IN THE FOLLOWING REGIONS: United States, Canada, United Kingdom, Germany, France, Singapore, Malaysia, Australia, Philippines, Hong Kong, Indonesia and New Zealand.

Featuring 28 parallel cards, some featuring alternate illustrations, the Booster Pack consists of iconic scenes from seasons 1 to 4 of Adventure Time!

Join Finn, Jake and the gang as they embark on a strange and awesome adventure through the Land of Ooo.

Product Information
☆SIGN CARDS☆
Stand a chance to obtain a hot stamped autographed card by the following members of the cast with every pack you purchase!
◆ Jeremy Shada (as Finn the Human) ◆
◆ John DiMaggio (as Jake the Dog) ◆
☆★☆★☆
The cards in this Booster Pack may be used together with cards with card number beginning with 「AT/」!
Total 100 types of cards + 28 Parallel
8 cards per pack
20 packs per display
16 displays per carton
◆ Box toppers
1 of 4 exclusive PR cards in every display box!
◆ Carton toppers
4 Rubber Playmats included in every carton!
▼ Carton topper playmat design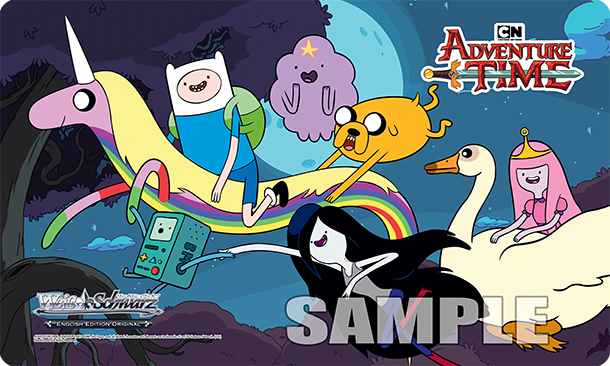 ※ First print run only.
※ Image is for illustration purpose only. Product specifications are subjected to change.
Neo-Standard Products
※ This product is intended for players aged 9 and above.
※ Weiß Schwarz (English Edition) does not include gold/silver campaign coupon.
Check out the cards that can be found in this product!