Booster Pack Accel・World -Infinite Burst-
NOW ON SALE
Release Date: November 10, 2017
■ Booster Pack Accel・World -Infinite Burst-

BURST LINK!!

Let's head to the Accelerated World
and beyond in Weiss Schwarz!!

SP Gold Foil/Hot Stamp signed cards from the various
Japanese voice cast are randomly inserted in packs!!

Kuroyukihime : Sachika Misawa
Chiyuri : Aki Toyosaki
Niko : Rina Hidaka
Fuko : Aya Endo

-100 types of cards + 20 Parallel
-8 cards per pack
-20 packs per display
-16 displays per carton
◆Box toppers & Carton topper
4 exclusive playmats will be included in every carton!!
Also, each display will contain 1 of the 4 PR cards!!
▼Carton topper playmat design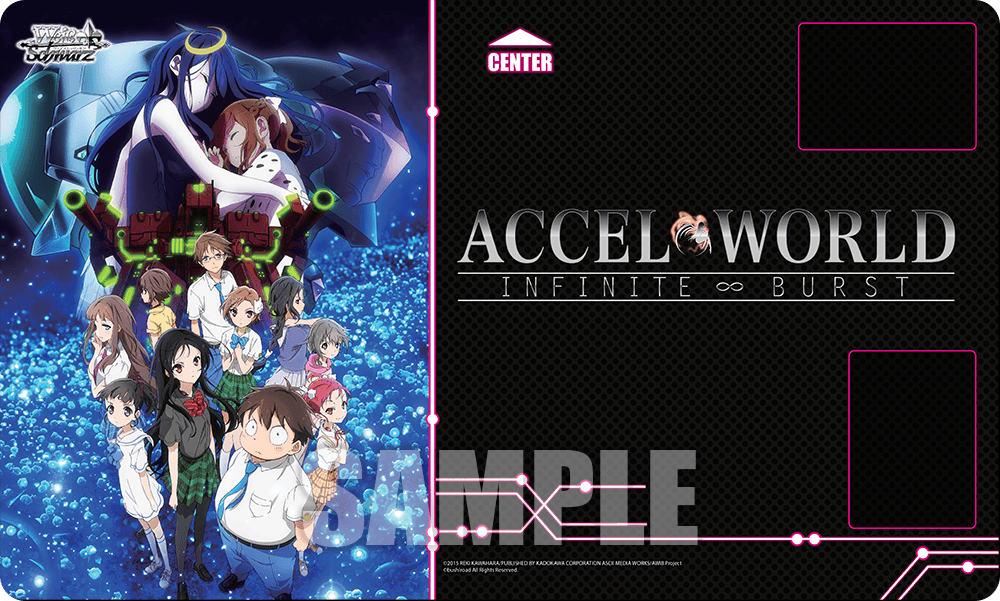 ※ First print run only.
※Image is for illustration purpose only. Product specifications are subjected to change.
Neo-Standard Products
※ English edition cards cannot be used in official Japanese edition tournaments.
※ Weiß Schwarz English Edition does not include gold/silver campaign coupon.