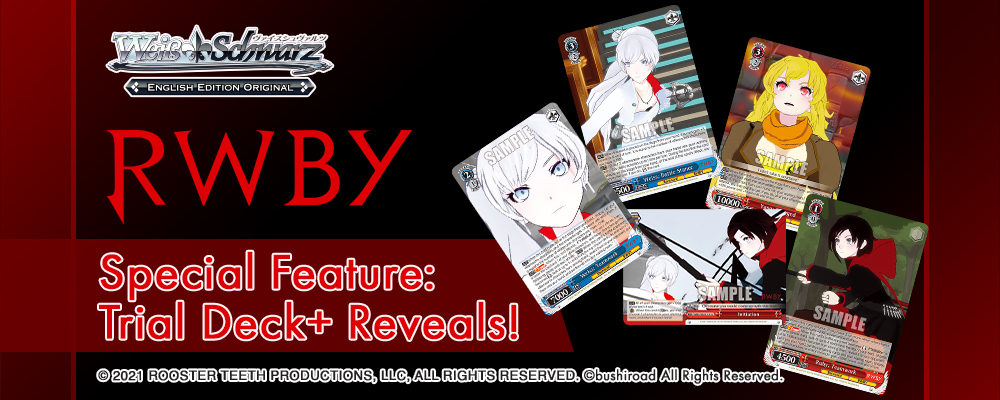 The girls from RWBY are continuing their training to be Huntresses on the Weiß Schwarz stage! RWBY is the latest in our exciting lineup of English Edition Originals and will be released this December with a Trial Deck+, Booster Pack, and Supply Set.
Here's a roundup of the Trial Deck+ reveals from this week.
Teamwork makes the dream work!
It's time to team up with Ruby and Weiss! The two of them share the Initiation climax combo, a useful tool to ensure you'll have the reinforcements needed for the turns to come.
There's strength in numbers with Ruby: Teamwork who gets a useful +2,000 power boost on the turn she is placed onto stage. This gives her just enough power to edge out most level 1 opponents, thus allowing her to activate her climax combo!
Weiss: Teamwork similarly provides an ally character with a power boost, giving her and her ally enough power to edge out their opponents! With enough luck, her climax combo could net you four new characters as you prepare for a devastating finish…
Close out the game!
Finish off your opponents with Weiss and Yang! The two are a formidable threat late game with the right setup and resources!
By paying the costs for Yang: Enraged, Weiss: Battle Stance could potentially reach 14,000 power on the turn she is placed on stage while swinging for three souls! This gives her more than enough power to joust her opponents, and thanks to her ability to re-stand, allows her to possibly deal up to six damage by herself.
☆★☆★
Keep your eyes peeled for more card reveals and surprises in the coming weeks as we gear up for the release of RWBY!