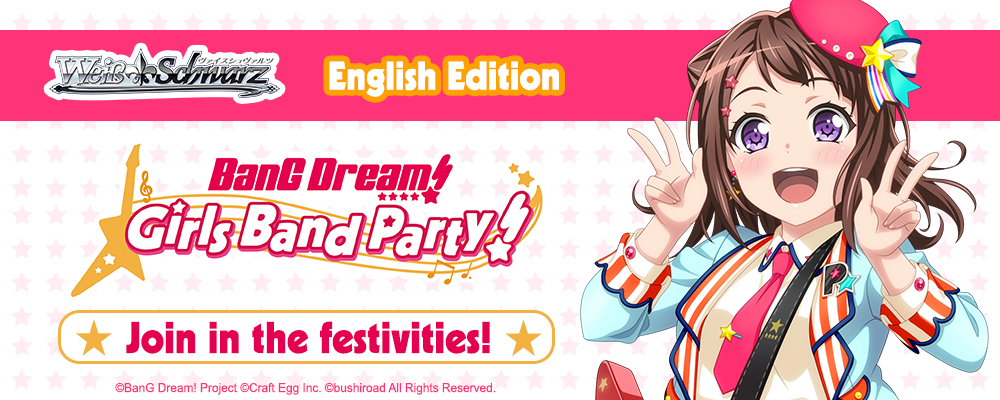 Celebrate the fourth anniversary of BanG Dream! Girls Band Party! with the bands you've come to know and love! There's something for everyone with Poppin'Party, Afterglow, Pastel*Palettes, Roselia, Hello, Happy World!, Morfonica, and RAISE A SUILEN who are all joining in the festivities when Premium Booster BanG Dream! Girls Band Party drops this April!
Each band will feature cards with the same effect so you can play with your favorite band members! Check out these amazing BDR (BanG Dream! Rare) cards that feature gold foil hot-stamped quotes from the members!
Poppin'Party
It's time for a sparkling, heart-pounding beat with the girls from Poppin'Party!
Afterglow
Bask in Afterglow! The five childhood friends are ready to take the stage for a rocking good time!
Pastel*Palettes
A prismatic performance awaits when Pastel*Palettes make their long awaited return to stage!
Roselia
The gothic girls of Roselia are all prepared to showcase their immense talent on stage!
Hello, Happy World!
Happy, Lucky, Smile, Hooray~! The girls from Hello, Happy World! are marching onto stage!
Morfonica
The all-girl violin rock band Morfonica are here to paint a fantastical worldview!
RAISE A SUILEN
Amp up the intensity with RAISE A SUILEN as they prepare to tear down the stage!