Interview with Weiss Schwarz Producer, Mr. Shimamura
Welcome back to a brand new article on the Weiss Schwarz Weekly Column
Over the past week, the Bushiroad World Championship 2015 Mexico Qualifier concluded successfully. A total of 282 players participated in the Weiss Schwarz tournament! Gracias to everyone who supported the event!
Don't forget to check out the Top 3 deck lists HERE.
In this week's article, we have conducted a special interview with Mr. Masatoshi Shimamura, the producer of Weiss Schwarz. This is a great chance to learn more about the man behind this wonderful trading card game. For those of you who are interested in becoming a game producer, we hope that this will be useful and inspiring for you!
Who is Mr. Shimamura?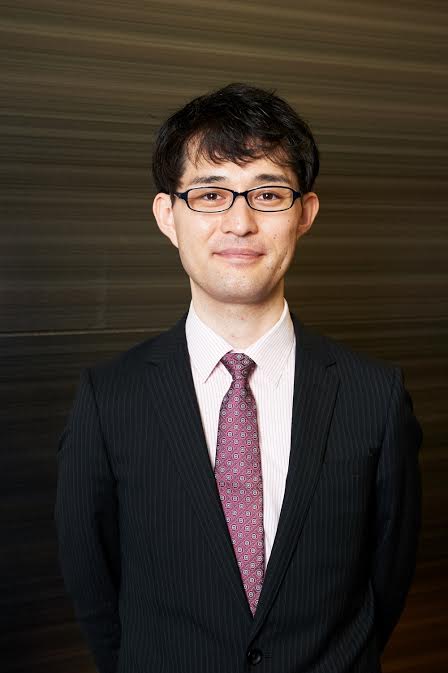 Masatoshi Shimamura is a trading card game producer from Bushiroad. He is the current producer for Weiss Schwarz. He is also involved in the development of Cardfight!! Vanguard, another trading card game by Bushiroad.
The Interview

— How did you became a producer of Weiss Schwarz?

In the early days when Bushiroad was developing Weiss Schwarz as our first big project, I was in charge of the game content as well as taking care of some detailed works. After that, I went to help with the development of Cardfight!! Vanguard. Right now, I am back as the producer of Weiss Schwarz, after 5 years!

— What do you think is the most enjoyable part of Weiss Schwarz?

I like the part where you can build your own deck based on your favorite title or character. Also, I really enjoy the excitement that arises when no one knows who is going to win until the very last moment!

— What exactly does a game producer do?

My job is to make decisions on the direction of the game development and keep track of the schedule to make sure everything is going well. Besides communicating with colleagues and partners from my office and other companies, it is also my job to present the latest updates on the game to our fans and supporters during major announcements.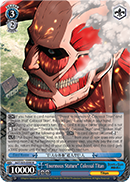 Which is your favorite Weiss Schwarz title? Tell us about your favorite cards too!

I really love all the titles that I was in charge of. However, the Persona series is still my all-time-favorite so far!
Cards like 処刑(translated as Execution) and シャッフルタイム(Translated as Shuffle Time) are very unique to the game. Lately, I'm really interested in "Enormous Stature" Colossal Titan. Not only does it have great power, the 3-cards combo makes it look really awesome and cool!

— Have you been to any tournaments in other countries? Are they different from tournaments in Japan?

I've visited CharaExpo 2015 in Singapore earlier this year. It feels the same as in Japan. I would really like to see players playing casually in shops the next time.

— Lastly, could you have a word for all the Weiss Schwarz fans around the world.

When I first began working on Weiss Schwarz, we had no idea that, someday, it will be played by fans from all around the globe. In the near future, Japanese animation will be more widely available overseas and we would like to take this opportunity to introduce Weiss Schwarz to more fans of Japanese animation. My team and I will try our best, and we hope for your utmost support. Thank you!
The Writer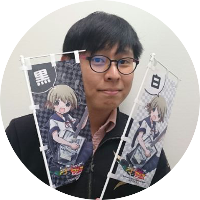 Kai
The Monochrome Columnist
Previous host of BUSHI NAVI International. Weiss Schwarz Meister. Loves drinking coffee.
Weiss Schwarz Weekly Column
Weiss Schwarz Weekly Columnn is a column written by your friendly Bushiroad staff, to provide you insight, tips and advice to become a better Weiss Schwarz Meister. You can look forward to deck tech, card review and event coverage in this column. Weekly updates are available every Wednesday.
Feel free to drop us ideas and suggestions via sg_support@bushiroad.com. Give us your comments too on our Facebook page.