Attack on Titan Deck Tech: Team Titan
Welcome to the first Weiss Schwarz Weekly Column article!
The Bushiroad World Championship 2015 tournament series has begun and we're not surprised to see that one of the most used title so far turns out to be Attack on Titan!!
There's an Attack on Titan deck taking podium finishes in almost all locations of Bushiroad World Championship 2015.
Check out the awesome deck lists of the winners HERE
One of the popular Attack on Titan builds among fellow Weiss Schwarz meisters around the world is the <Titan > deck.
Today, we'll look at the features of a Titan deck.
The Almost-Invincible Wall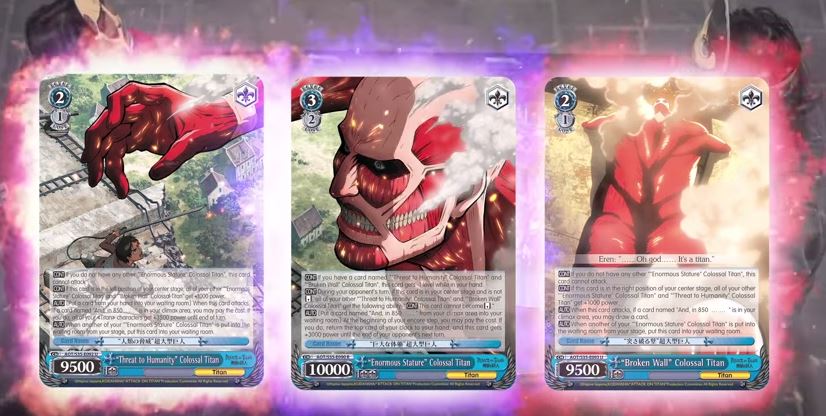 <<Titan >> deck players always begin their game with a very clear objective in their mind.
"I NEED ALL THE 3 COMBO CARDS!!!"
While it is still possible to win without "Threat to Humanity" Colossal Titan
, "Broken Wall" Colossal Titan and
"Enormous Stature" Colossal Titan on your center stage, these cards create great pressure and threat for your opponent to deal with.
Find the Correct Card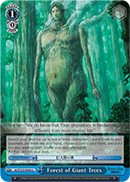 To build your Almost-Invincible Wall, you would first need to find the correct materials.
Forest of Giant Trees is the best card for you to look for the <<Titan >> card you'll need, at a slightly "painful" cost. Even if you have the combo pieces in your hand, this card can still get you the necessary support cards to carry on your siege.
Another useful card that can assist you in getting the correct <<Titan >> card is "Towering Threat" Titan.
Strike Hard, Win Fast!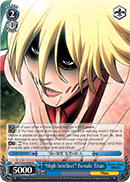 Your <<Titan >> cards in the center stage have great amount of power,
but do note that 2 of them only have 1 soul!
This means your opponent might outrace you in terms of soul damage even though you have a great wall defending yourself.
"High Intellect" Female Titan is very useful in the race of dealing soul damage.
Make sure you have enough stock and hand to continue the siege!!
Know Your Opponent Well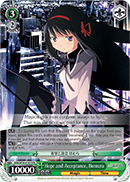 The 3-card combo may look very devastating but they are not invincible!
Beware of your opponent's "Backup" ability which will ruin your formidable combo!
Abilities that can send cards from your stage to another area will break your formation too!
King of Military Rule, Rider and Hope and Acceptance, Homura are very good examples of characters you should be wary of.
<<Titan >> Deck
Here is a sample deck list for you to test around with.
This was the deck that I had used in BUSHI NAVI International Season 3 Episode 4!
The Writer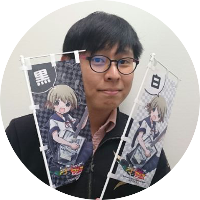 Kai
The Monochrome Columnist
Previous host of BUSHI NAVI International. Weiss Schwarz Meister. Loves drinking coffee.
Weiss Schwarz Weekly Column
Weiss Schwarz Weekly Columnn is a column written by your friendly Bushiroad staff, to provide you insight, tips and advice to become a better Weiss Schwarz Meister. You can look forward to deck tech, card review and event coverage in this column. Weekly updates are available every Wednesday.
Feel free to drop us ideas and suggestions via sg_support@bushiroad.com. Give us your comments too on our Facebook page.